Fresh Content in Experience
Discovery Education continues to add timely and relevant content each month to support teachers and students. This month, don't miss our newest editions:
National Native American Heritage Month Channel: Just in time for National Native American Heritage Month, find fresh resources like Sioux writer and activist Zitkala-Sa's "Old Indian Legends" Audiobook series as well as videos from California Academy of Sciences, BESE, and more. The Content team will continue to add resources to support National Native American Heritage Month throughout November.
Aftrican American Experiences Channel (Exclusive to our Experience Partners): The contributions, struggles, and triumphs of African Americans are woven into the fabric of American history and culture. Learning about African American experiences helps us tell America's story. The resources in this channel, developed in partnership with Los Angeles Unified School District, are organized by two frameworks: the Teaching Tolerance Social Justice Standards and the African American Studies curriculum organization of Culture, History, and Politics. Educators can easily pick up the complexities of teaching hard history in podcasts while students will be inspired by changemakers such as Ruby Bridges, Maya Angelou, and Ibram Kendi. The resources will help students understand America's complex history, gain insight into the experiences of classmates, and imagine a more equitable future for all.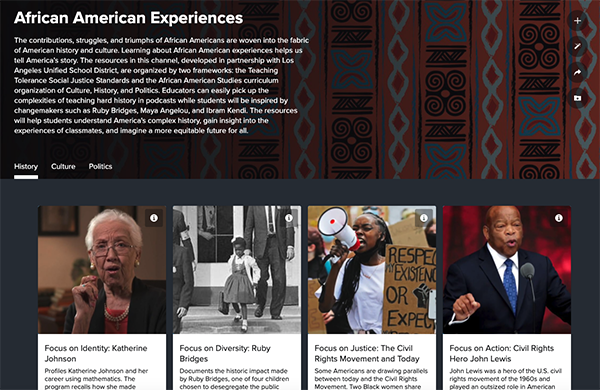 Keeping You Connected to Curiosity Channel: Curiosity. An instinct to explore and make sense of the world around us. A drive from within to investigate wonders, unlock mysteries and reimagine the future. The Keeping You Connected to Curiosity Channel is filled with exciting content and experiences designed to spark your sense of wonder and investigate real-world problems, uncover understanding, inspire innovation and pursue unlimited possibilities. Because when we're curious, amazing things happen.
Additional highlights you don't want to miss are:
BESE: A collection of new videos from BESE's Point x Point series featuring inspiring stories of underrepresented young athletes in competitive sports.
Operation Prevention: Videos, educator guides, and hands-on investigations created in partnership with the DEA to educate students about the impact of opioid misuse.
Common Sense: Privacy and Security Channel: New activities, videos, quizzes, and lesson plans for K-12 educating students about sharing personal information online. Available in English and Spanish
New Partner Spotlight
We are excited to share new SEL and STEM partners in November! The Inner Explorer (SEL), Everyday Speech (SEL), and Sea Studios Foundation (STEM) equip teachers with the tools and resources necessary to grow the SEL and STEM culture in their classroom. Look for these resources coming soon!