Assessment Builder is a single tool that incorporates Technology Enhanced Items (TEIs) and allows educators to randomize questions and hide scores and answers from students. It also allows students to complete assessments over multiple sessions.
---
Note: When assigning content to students, students must have a Discovery Education account and your classes must be set up. If you are unsure how to do either, explore these articles:
---
Access Assessment Builder
Select Assessment Builder from your My DE homepage, or from the sidebar navigation menu.


Create a Customized Assessment
To begin, select Create Assessment > Practice Assessment.

Note that if you have access to Techbook products, you have additional options: Concept-Based Assessment and Standards-Based Assessment.
Once you select the type of assessment to create, follow these steps:
Enter a Title.
Enter Instructions.
Optional, select the checkbox to Display Assessment Items in Random Order.
Select Save and Continue.
Save to one of your My Content folders, select Add New Folder, if needed.
Select Add.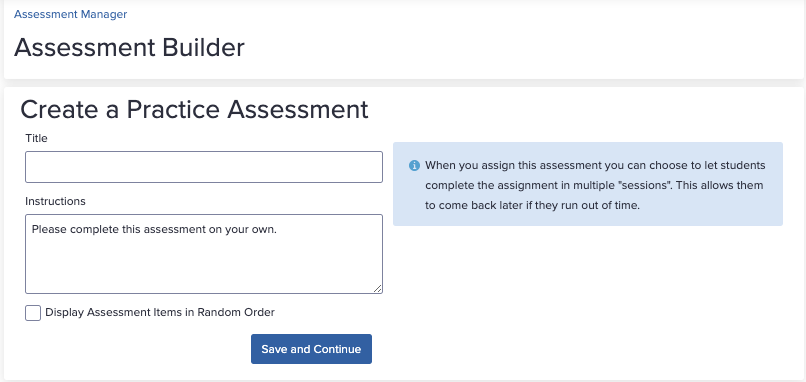 Add items
To add questions to your assessment, select Create Item to customize your question or enter a term in Search for Items to pull from a question bank.

Create Items
To create customized items, select Create Item and follow the prompts. You can select from the following question types:
Multiple Choice
Multiple Select
Short Answer
Then, enter the following:
Question Prompt and Responses
Scoring
Metadata (Optional)
Select Save Draft > Add to Assessment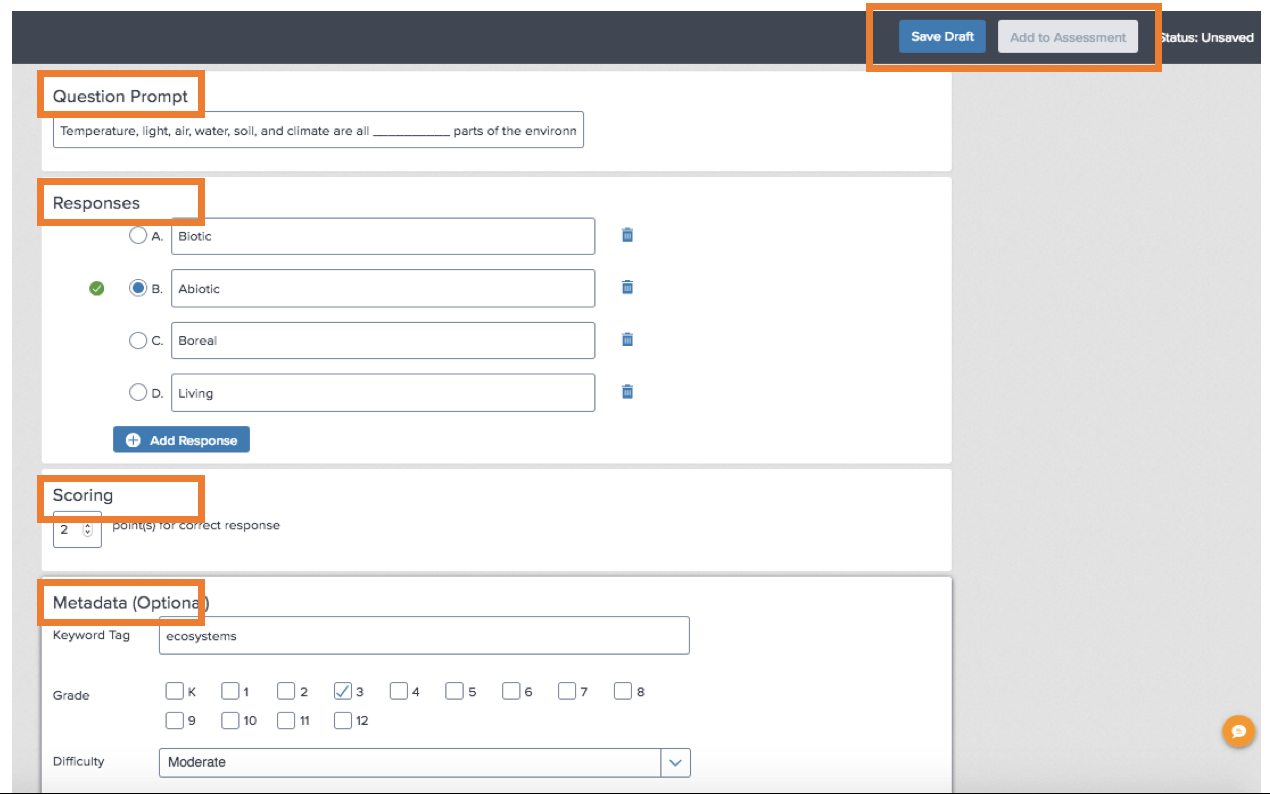 Search Items
From Assessment Manager > Assessment Builder, use Search for Items to find assessment items from a bank of questions that match your units.
Enter your keyword and select Search. When results appear, use the filters, such as Item Types (e.g., Selected Response, Drop Down, Select Text) and Categories (e.g., Summative, Practice Formative), to narrow your findings by categories.
When you find an item you want to use, select +Add to move it to your assessment.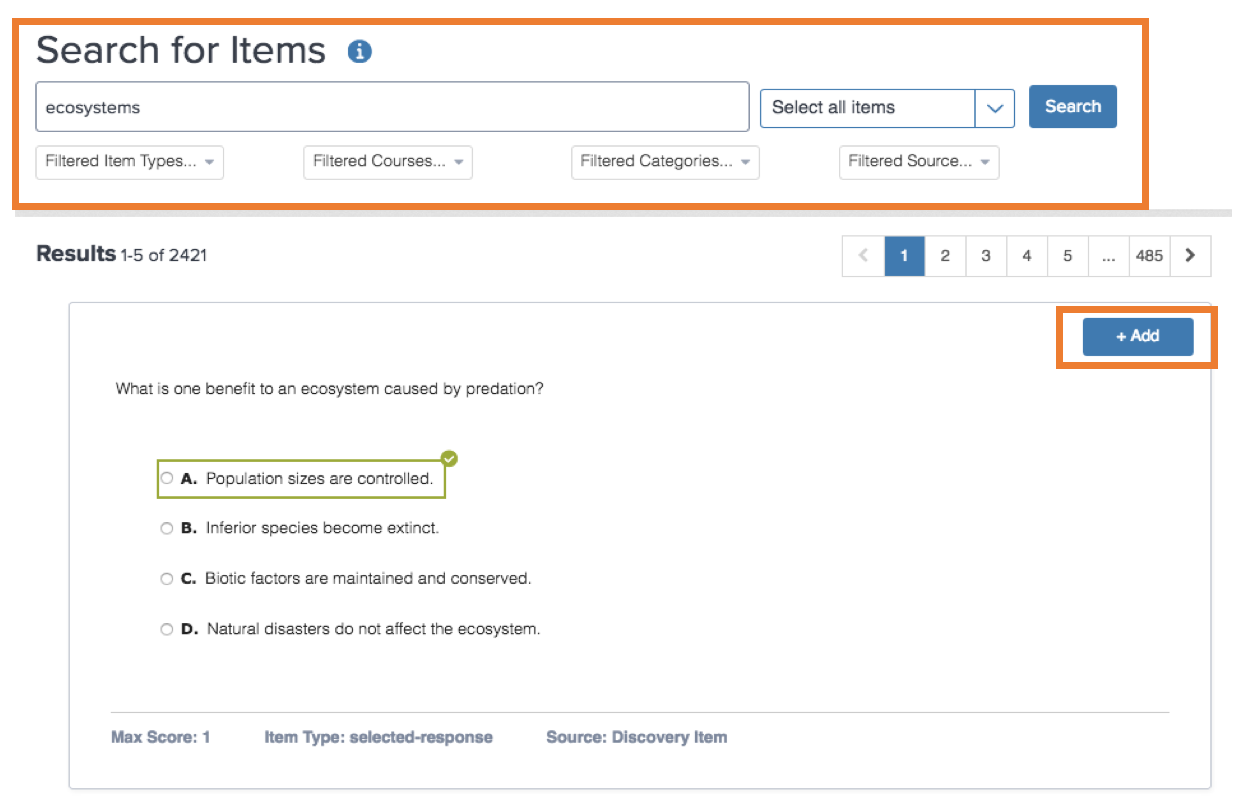 Assign
When you are done adding items, select Assign to share with your entire class, groups of students, or an individual student.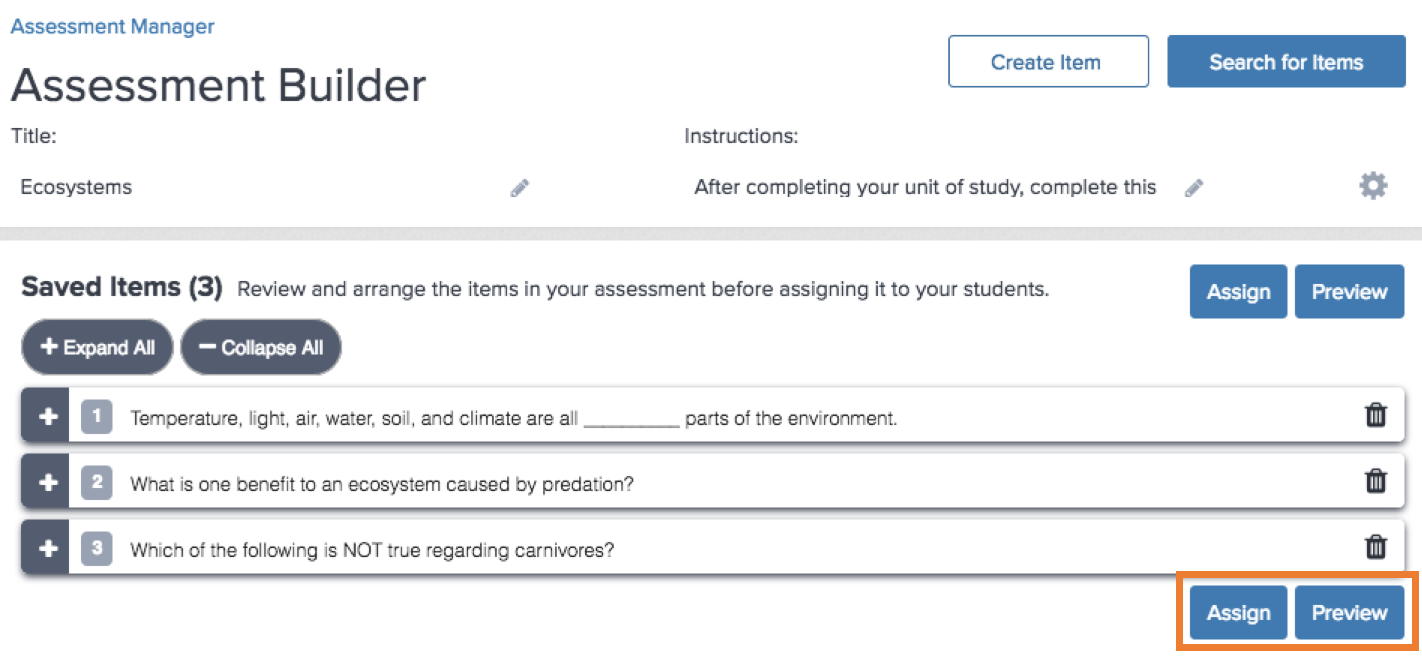 During this step, give the assessment a Title and edit student directions as well as set the start and end dates for the assessments. You can also enable features that allow students to save and finish assessments later and hide scores and answers from students.