In this step, you will learn how to assign and share content within Discovery Education or through your learning management systems.
---
Learn how to use tools, features, and Discovery Education's classroom manager to assign content to Discovery Education's Student Center.Assigning content to students enables fast access to materials, minimizes distractions, and creates opportunities for tracking completion. Content can be assigned as individual resources, folders of resources, or can be curated with a Studio board.
When possible, it is best to meet the students with tools that provide them with familiarity and ease of use. All resources within the Discovery Education Experience can be shared with your students in a variety of ways including email, web links/URLs, your school's learning management system, social media, and other web based classroom tools. Discovery Education also provides a mechanism for you to assign content directly to students and track their progress.
Discovery Education resources can also be easily shared in Learning Management Systems such as Google, Microsoft Teams, Schoology, and Canvas.
---
Begin Your Students' Experience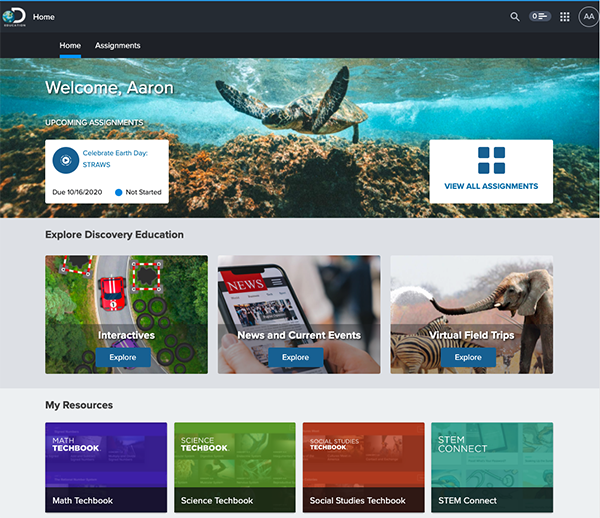 What Students See
When a digital resource, folder of resources, or Studio board is assigned to a student, it appears on their Discovery Education My DE homepage.
Assignments that are due soon are featured under Upcoming Assignments, or students can choose to View All Assignments to see all items on their learning plan.
Student learning plans include information about each assignment, including its name and type, a due date, and teacher and class information in a sortable table.
Students can also see each assignment's status. When a student completes an assignment, it moves to the Completed section of the learning plan. Past-due assignments move the the Past Due tab on a student's learning plan dashboard.
---
Additional Support
---
✅ Try This: Select a Discovery Education digital resource and share it with your students through Discovery Education's Student Center or your learning management system.
Note: You will need a Discovery Education login to try this step.