Discovery Education supports global citizenship education through rich content in engaging formats that lend themselves to learning about different cultures, current and historical events, and geopolitical issues within and between nations.
---
Background
Ideas for Global Citizenship identifies characteristics of global citizens, makes a case for the need for global citizenship education, and describes what it looks like in the classroom. AMP Global Youth acknowledges the challenges of being a global citizen and the differing concepts on what being a global citizen means.
Global citizenship recognizes the ever-increasing interconnectivity of the world. This leads to more frequent interactions between members of different countries, cultures, and beliefs. Global citizens are aware of the impact of their actions on the world and have an awareness of different perspectives with regard to world events.
Discovery Education supports global citizenship education through rich content in engaging formats that lend themselves to learning about different cultures, current and historical events, and geopolitical issues within and between nations.
---
Learning about Different Cultures
The Discovery Atlas Interactive Map provides an immersive video guide to the world. Zoom in and access videos that may include a country's government, history, culture, and natural world. An SOS designed to support using this resource, Where in the World, encourages the researching of other cultures.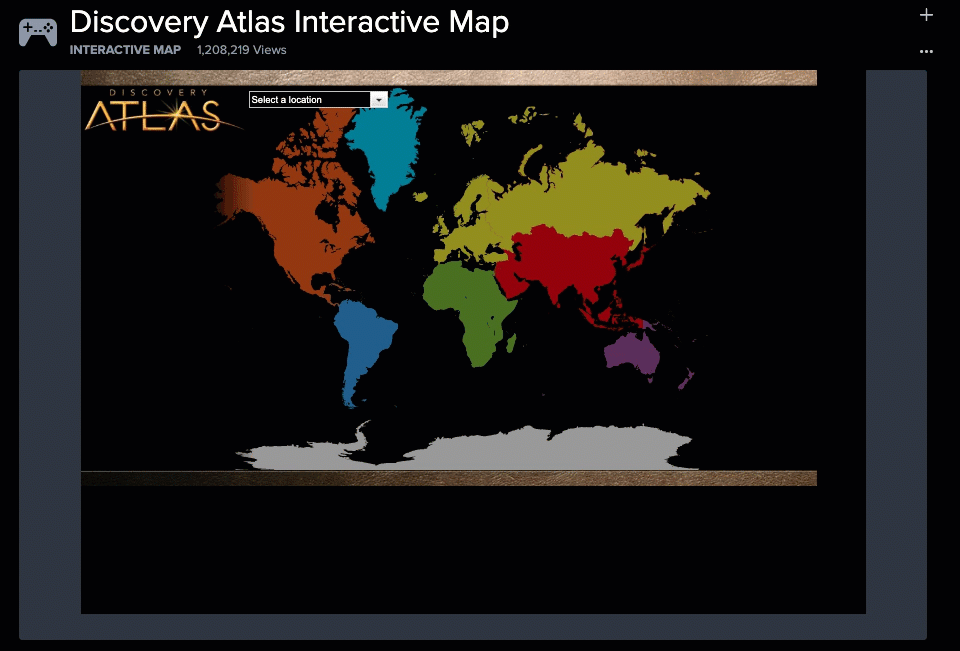 All of the video content found within the Discovery Atlas Interactive Map can also be found as separate video assets within Discovery Education. This allows features such as Closed Captions, Transcripts, Related Materials, and the ability to download to be accessed.
Additional multimodal content including videos, images, podcasts, text, and interactives provide additional sources of information about different cultures.
When paired with instructional strategies such as Talking Sticks, Four Corners, or Paper Chat, students can engage in robust, meaningful dialogue around global cultures.
---
Current and Historical Events
Daily global news digests from Reuters News Agency provide objective, relevant news videos and are found as Global News on the News and Current Events Channel. The digests can be played directly on the My DE page or from the video's asset page, which allows the transcript to be accessed. The news digests are available for K-5 and 6-12 grade ranges. Access archived Global News videos two ways:
The News and Current Events Channel aggregates the most recent Global News assets as well as providing access to the previous sixteen months of Discovery Education News Archives.
A Keyword search for "Global Wrap" and applying the filters, Video > Full Video will return individual results spanning back several years to the first Global Wrap video.
Channels offer bundled instructional resources around various historical events and periods of time, including: Contemporary World History, World War I, USC Shoah Foundation, and many more.
Each channel provides curated content by grade-band with learning objectives, target vocabulary, and instructional strategies. These one-stop resources provide a launching point for conversations around important issues and events with students.
---
Geopolitical Issues Within and Between Nations
There are a variety of Channels around front-burner issues such, as The Warming Planet, Global Refugee Crisis, and Working a Turnaround.
Discovery Education Virtual Field Trips transport students to places, people, and events they otherwise would not be able to access. The shared virtual field trip experience provides lesson materials and the opportunity to interact with other classrooms. Every school year has a robust schedule of virtual field trips, which can be accessed through the Events Calendar. Virtual field trips are archived and accessible through the Professional Learning Center. While not a live experience, the archives still provide the opportunity to connect with wide-ranging content and classrooms.
Educational Partnerships such as Econ Essentials provide powerful learning experiences related to financial literacy and the interrelated nature of the global economy. Resources such as Interactive Learning Modules, Seeker Stories, and Futures Fundamentals provide in-depth understanding of economic principles through engaging, real world content.
In collaboration with GlobalLab, Discovery Education has six collaborative projects, such as Heat Transfer: The Great Ice Melt. Each global lab offers the opportunities to build background knowledge, conduct investigations, and work with collaborative data sets with other classrooms.
---
Spotlight on Strategies
See the Top 10 SOS Instructional Strategies for Global Citizenship (Canadian Subscribers) to integrate in everyday teaching practice to scaffold students in mastering the knowledge, skills, and dispositions necessary to be global citizens.