Discovery Education Social Studies Techbook Dashboard is a data collection and student engagement tool. All data collected from completed student activities, including embedded technology-enhanced item responses, feed to Dashboard.
---
Overview
Social Studies Techbook includes two Dashboards - the Concept Dashboard which includes formative assessment data from the concept, and the Course Assessments dashboard which includes summative assessment data from the concept. To access these, select the Social Studies Techbook course, unit, chapter, and concept. Choose Results from the concept Toolbar.
---
Concept Dashboard
The Concept Dashboard displays data which corresponds to the five Es of the inquiry learning cycle around which the Social Studies Techbook is organized: Engage, Explore, Explain, Elaborate, and Evaluate. The drop-down will display the sections that have embedded technology-enhanced items in that particular concept. Select the tab from the drop-down of the corresponding activity for the data you would like to see. Responses are automatically scored and color-coded as No Points, Some Points, All Points, Not Answered, or Needs Score. Use Refresh to update the incoming results in real-time. To view the technology-enhanced item's content, select its hyperlinked title. By default, results will display anonymously. These anonymous results can be used to see non-student-specific patterns of responses or can be displayed to students. To view student responses with student information identified, deselect the Hide Names option.

To view results from a different class or grouping of students, use the drop-down menu and select the desired class.
---
Score Results
Because of their open-text nature, some technology-enhanced items will need to be manually scored. Once a student submits his or her response for that item, a Needs Score notification will appear in the dashboard.

The assignments in Dashboard are accompanied by evaluation criteria prepared by Discovery Education. Students can see the evaluation criteria, or rubric, for the activities prior to submitting their work. Select the appropriate student performance criteria levels, add any comments, and submit the evaluation. A student can monitor his or her results on the Student Dashboard.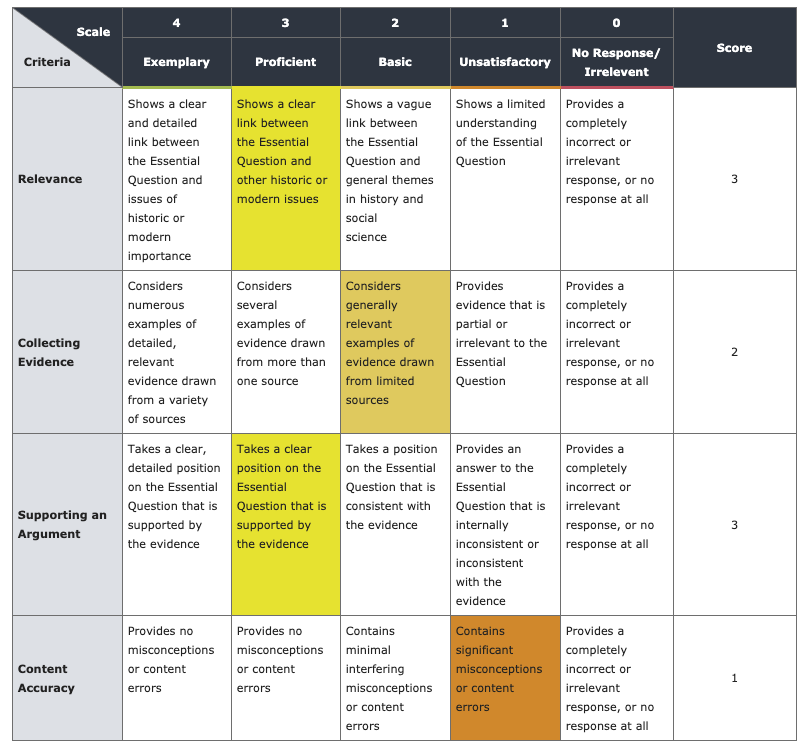 ---
Assigned Results Dashboard
Student results for assigned assessments are displayed with a Results Dashboard. Assessments can be created with the Techbook Assessment Builder, or ready-to-assign Chapter-level assessments are available under Chapter Assessments and Resources.
To see student results for an assigned assessment—or any assigned content—select Classrooms from Discovery Education navigation. In Classrooms, choose Assignments and select the View Results button from the Dashboard.
By default, student names will be shown in alphabetical order on the dashboard. Data is organized in columns by Question; to view results grouped by academic standard, select Standards from the View by drop-down. Student scoring displays with a green check for all points, red X for no points, yellow for some points, and a blue box indicating that it needs to be scored by the teacher. A blank indicates the student has not yet submitted a response. Select any score to see the details of the student response, or select the student name to see tabbed details for each question. Select Download Results by Question for a .csv file that may integrate with other gradebook software. To see the original assessment, select the hyperlinked assessment name.
---
Course Assessments Dashboard
The Course Assessments Dashboard contains the summative assessments in each chapter for a course. From this Dashboard, assessments can be assigned directly to students. Once assigned, teachers can access results for students from this dashboard as well.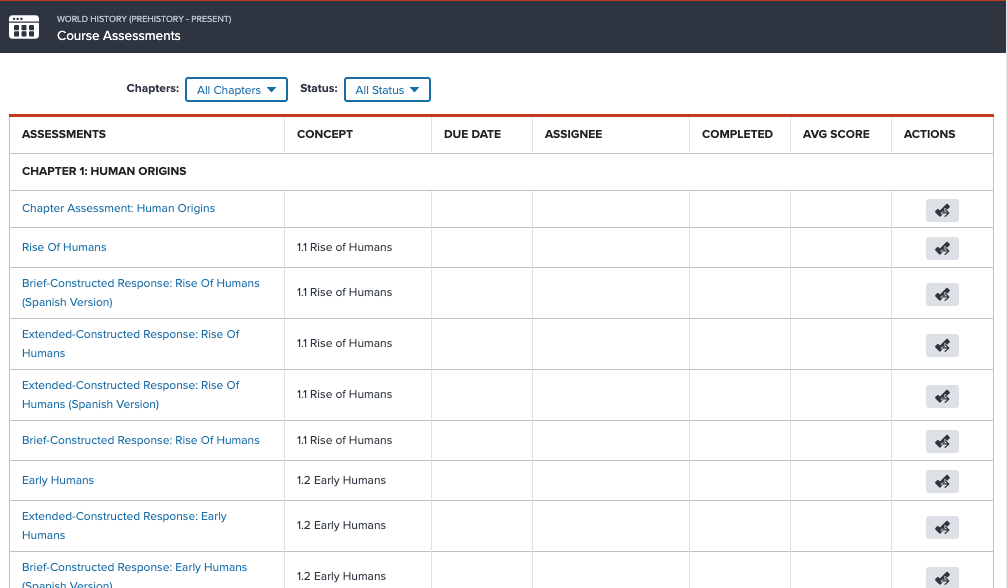 Save Save Save Save Save Save Save