Sharing content to students enables fast access to materials and minimizes distractions. Content can also be shared among teachers to support collaborative planning.
---
My Content allows you to collect, organize, share, and retrieve your favorite Discovery Education digital curriculum resources in an organized filing structure. Located in the My DE navigation bar and the grid navigation, My Content is accessible from anywhere on the site.

My Content works just like the folder structure on your computer. You can create sub-folders to create hierarchies within content, grade levels, or courses. You can also choose to share resources with your school and your district.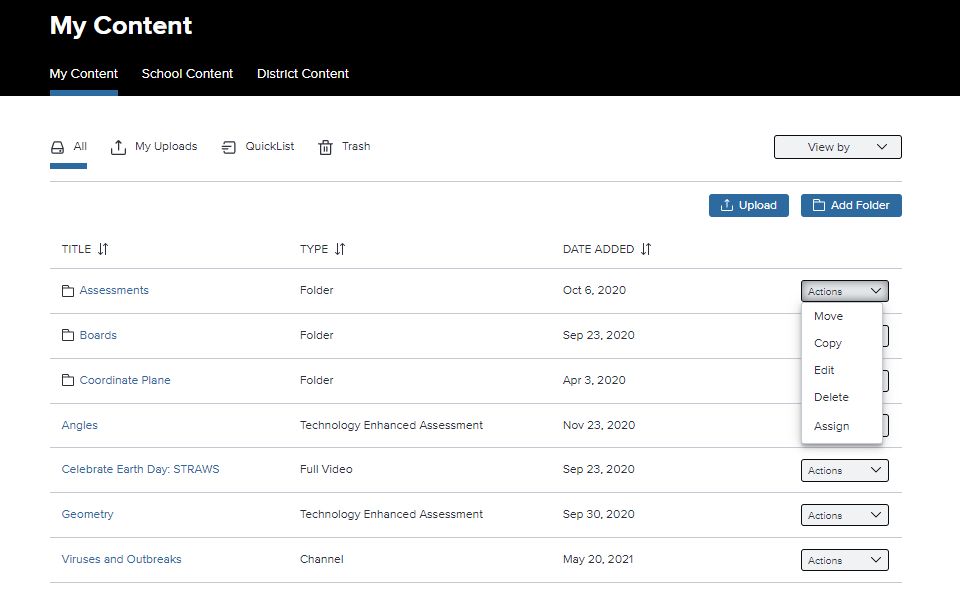 Adding resources to My Content does not initiate the playing or downloading of a resource. The purpose of My Content is to bookmark the resource for easy retrieval. All files and projects within My Content are stored on the Discovery Education servers.
To add resources to My Content:
Locate a media resource that you wish to add to My Content and select Add to My Content.
In the window that appears, add the resource to the My Content default folder, select a different folder, or add it to a new folder.

If you select Add to New Folder, follow the prompts to enter a folder name and folder location—remember, My Content allows you to create folders within other folders.

Click Add, and the window will display a confirmation message.
To access your content, select My Content from the navigation grid on any Discovery Education page.
Once you have added media resources to My Content, you can use the Actions drop-down menu to copy, move, edit, preview, and delete them at any time. You can also sort your resources by type, title, or creation date by clicking on the appropriate column header.
In addition to My Content, you also have access to School Content and District Content. This is a great way to share resources across your school or district. Once a resource is added to My Content, you can select the Actions dropdown and then Move or Copy. Select the School or District Content tabs and select the folder you wish it to sit in. Resources that live in School Content are available to all users in your school. Resources that live in District Content are available across the entire district. Save Save Save