Access Discovery Education Social Studies Techbook with a view that lets you browse by course, unit, or chapter, and explore tools and resources found throughout Social Studies Techbook.
---
Accessing Social Studies Techbook
Select Social Studies Techbook from the Curriculum Packs section of your My DE homepage. You can also access Social Studies Techbook from any page using the menu in the upper left corner.

---
Course, Unit, Chapter, Concept
Social Studies Techbook is organized and described using the following vocabulary:
Course: overall course of study in an academic area
Unit: thematic groupings of learning concepts
Chapter: sequencing of learning topics
Concept: individual topics of study
Social Studies Techbook opens to the last course visited. To change courses, select Course and choose the preferred course.

---
Course Views
There are three ways to navigate the content of each course in Social Studies Techbook: Overview, Table of Contents, and Standards views.
Social Studies Techbook Overview, the default view, is browse-enabled, visually dynamic, and interactive.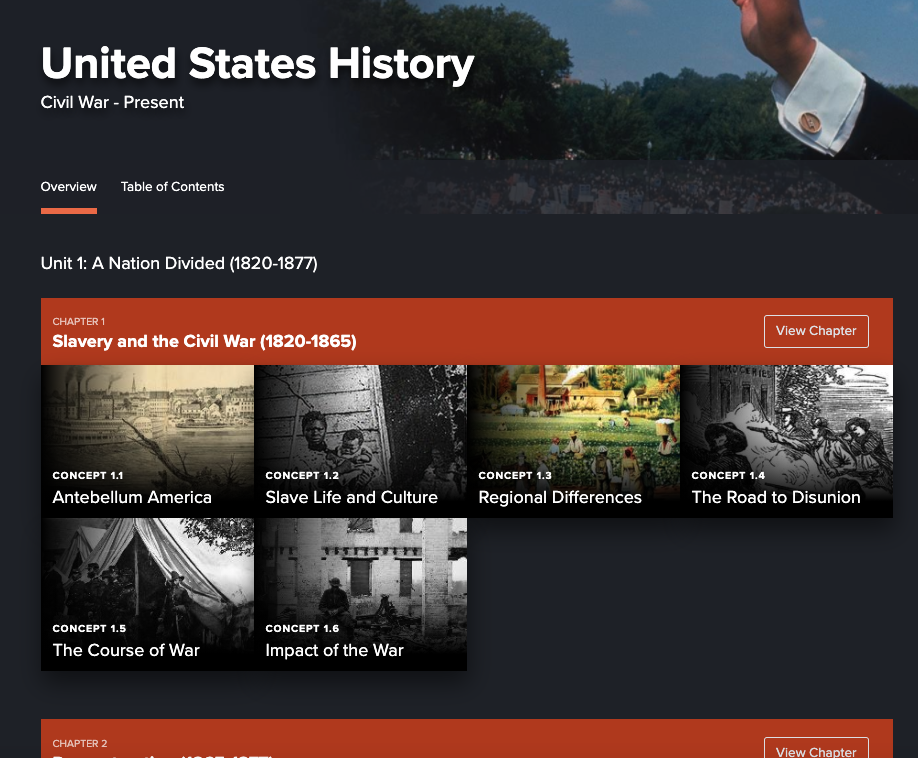 Table of Contents view provides a more linear, book-like navigation. Select Standards on each concept to see the grade-level standards for the concept, or use the Expand All button to see all standards addressed in the unit. Print the Table of Contents view using the printer icon in the toolbar.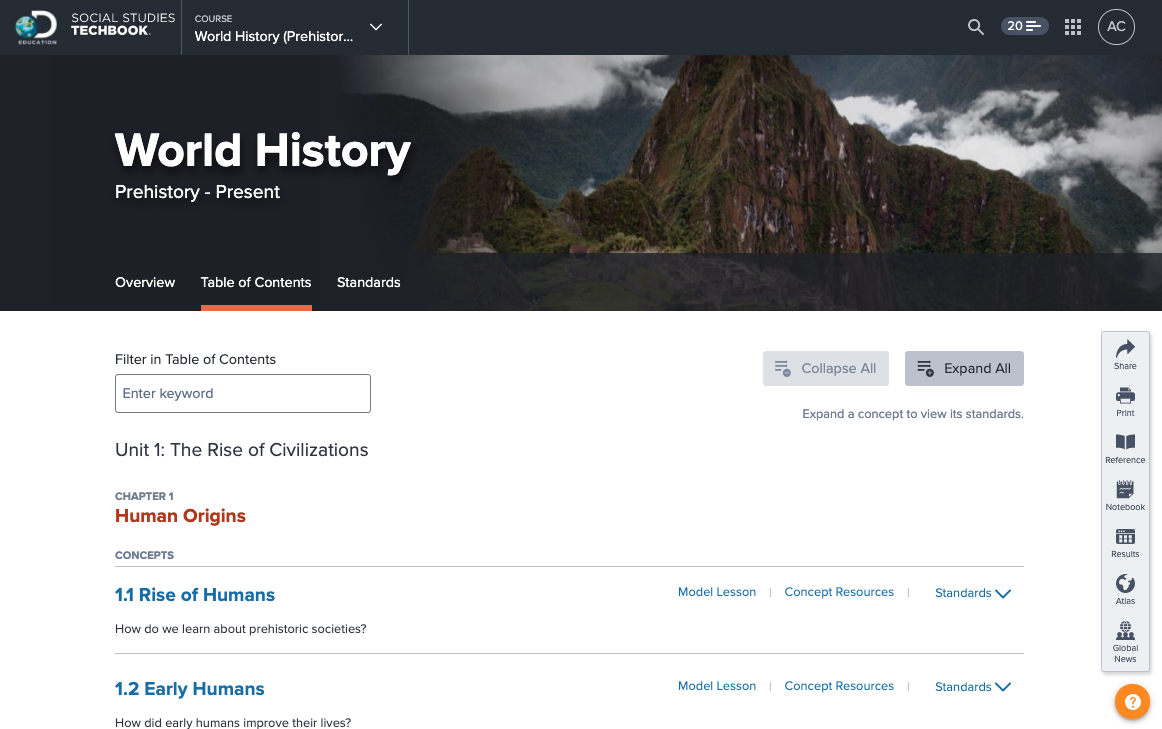 The course content can also be displayed in a Standards view. Select a standard, expand the detail of the standard until blue hyperlinked text appears, and then select the standard content. Social Studies Techbook displays the Concept(s) where that standard is addressed in Social Studies Techbook, or view all concept resources that support the standard.
---
Navigating Units and Chapters
Select any Chapter to see a Chapter Overview and Chapter Assessments and Resources. Note that some Units will have more than one Chapter. Chapter Overview displays its essential question, and a description of its Concepts, with fast access to Model Lessons and Concept Resources.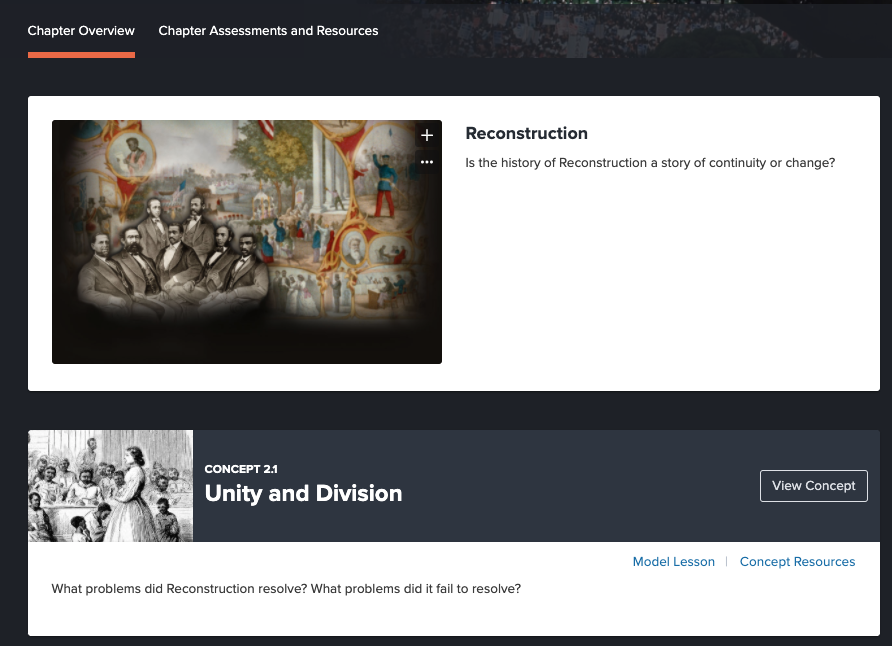 Find the chapter assessment that can be used as a formative or summative knowledge check in Chapter Assessments and Resources.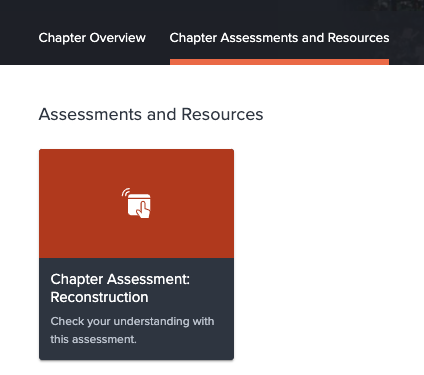 Select a Concept to access a model lesson, content organized around the 5E model of instruction, and additional formative and summative assessment opportunities.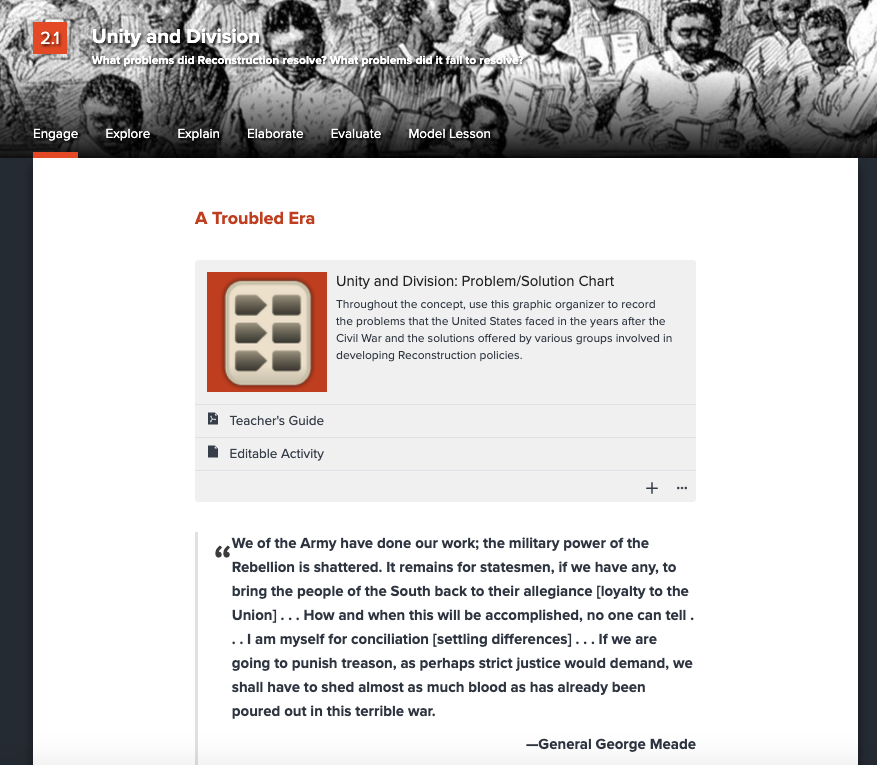 Save Save Save Save Save Save Save Save Save Save Save Save Save Save Save Save Save Save Save Save Save Save Save Save Save Save Save Save Save Save