Users with Admin access to Discovery Education can bulk import teachers, students, classes, and rosters into Discovery Education. If you are able to pull this data from your data management system into .CSV files to use with our Bulk Upload Tool, this is your best option. 
If you are the school/district administrator, but do not have a My Admin tile on your My DE homepage, please call 1-800-323-9084, prompt #1 or email education_info@discoveryed.com so we can transition your account to have Admin access.
---
Bulk Import Process
Select Admin Dashboard from the Global Navigation menu in the top left to access the Admin Portal. 
Import
From the Tools menu at the top of the page, select User Import. From here, you have five different uploads to select from. Each upload provides a downloadable template and includes the column headers needed for your .CSV file.

You can also select the Details link under each file type to see required fields and example values.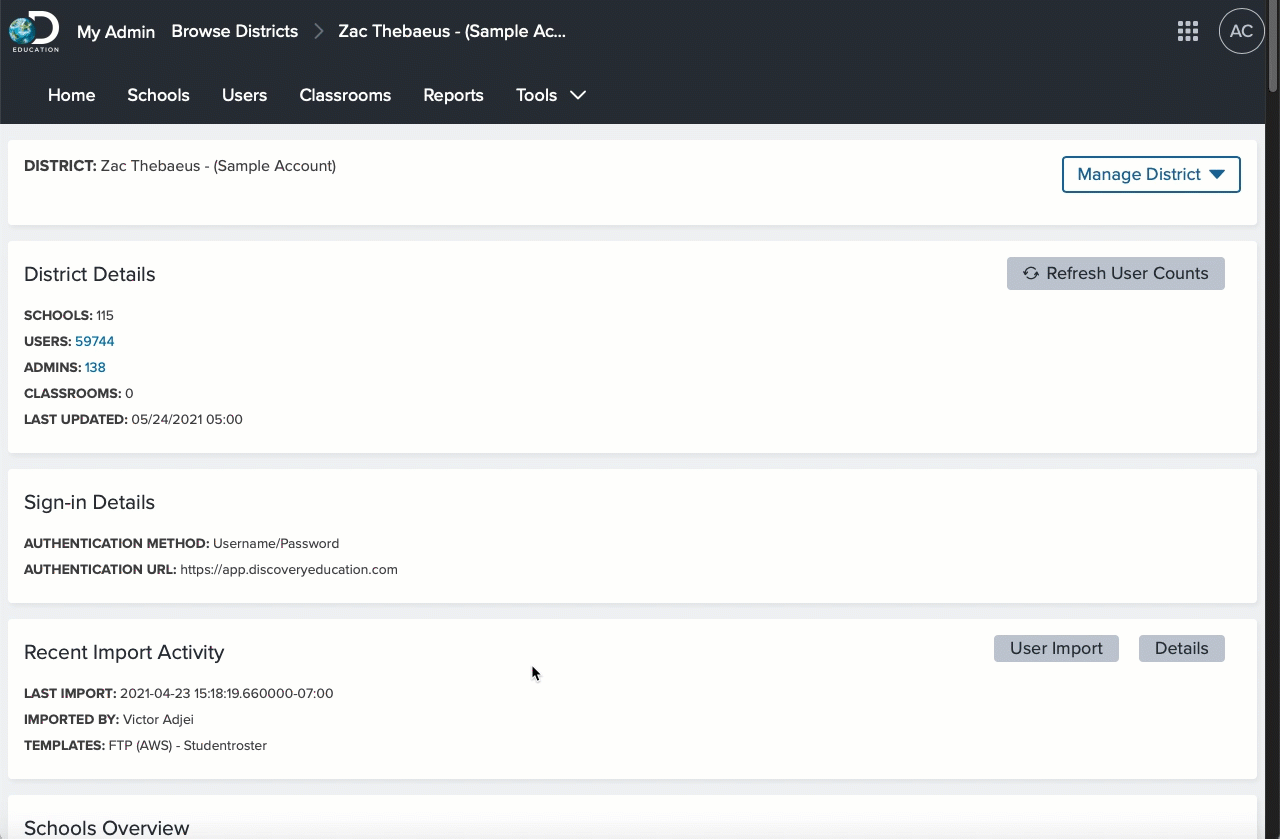 For user security, passwords are not accepted as an import field. New teachers not set up for Single Sign-on need to request a password reset upon first login. For students not set up with Single Sign-on, the Student ID is used as a one-time password. Upon first login, each student is prompted to update their password.
Learn more about imports for Single Sign-On districts.
To help prevent errors, ensure each file is saved in .CSV format and that the file name contains the word "teacher" or "student" or "class" or "roster", depending on the type of import you are completing. Uploaded files begin the validation and import process immediately.
Review
Once files have been validated and imported, review them for errors under the History tab of Bulk Import. If you need to correct errors, we recommend importing a new file with only the corrections.
Class and Roster Uploads
Once you import teachers and students, you can complete class and roster uploads. These uploads generate classes within Discovery Education as well as add teachers and students to those classes.
The templates guide you through the requirements for each file. If you prefer, teachers can create their own classes manually and add students to their classes (unless your district has disabled this option). To learn more, see Manually Create Accounts & Classes
For additional support on creating import files, please read our CSV Import Quick Start Guide.
Alternatively, learn more about manual user account and class creation.