Listening is a key component of learning English. A good piece of audio may increase student motivation as students will want to listen and follow along with the story. Listening activities help your students improve pronunciation, comprehension, and build vocabulary. No matter the level of English language proficiency, podcasts can be instrumental in supporting language learning. Podcasts can provide English Language Learners (ELLs) the opportunity to listen to authentic conversational.
Explore ideas for integrating audio into the classroom as well as some effective strategies from our SOS Instructional Strategies collection.
Note: The links below require a Discovery Education login. Please log in in a separate tab before clicking on any links.
---
Planning
It is important to preview the audio and plan for the language and content support ELLs might need. For example, a warm-up activity to the audio giving students a hint about what they are going to hear. Also, you should identify the complexity of the language in the audio and determine how appropriate the clip is to students based on their level of English language proficiency.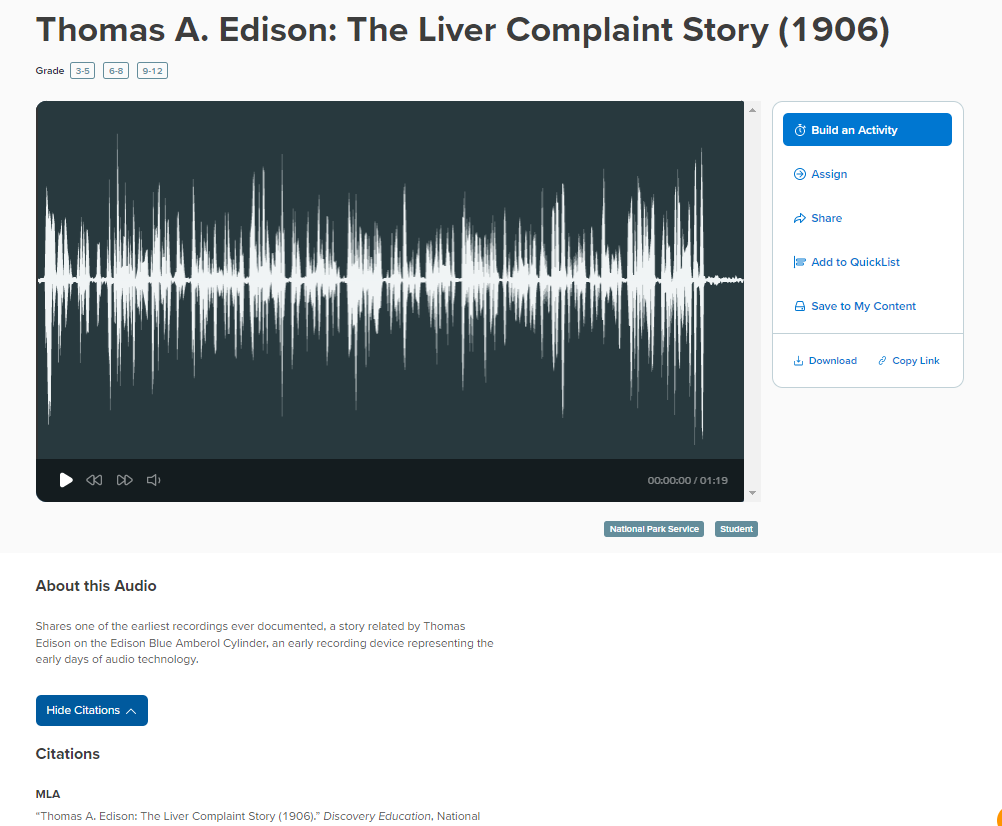 ---
Vocabulary Development
It is important to pre-teach social and academic vocabulary students will need for interaction with the media and the associated tasks. Read My Mind encourages students to build a robust vocabulary through participation in a fun and engaging game, and it helps students focus on key words within the context of instructional media. This strategy stretches students to develop their vocabulary and, in turn, boost both their comprehension and communication skills. The level of competition can be dialed up or down, as appropriate for student learning. Video | PDF
Concept Circles is a strategy used to help students analyze the relationships between content words by using a circle organizer to determine the concept of study. Students identify and discuss vocabulary and its relationship to content and then represent their analysis in the organizer. Video | PDF | Graphic Organizer
Vocabulary Scavenger Hunt is a teaching strategy that introduces students to vocabulary related to a particular topic. Based on pre-selected words, students will clap during various activities whenever they hear any of the new vocabulary. Video | PDF
Use video clips and images to help students understand key academic vocabulary that students will encounter in the audiobook or podcast. Vocabulary Quadrants is a teaching strategy that follows Frayer's model for vocabulary acquisition and requires students to consider one word in several different areas. By completing a vocabulary map, students become familiar various angles of new vocabulary. Video | PDF | Graphic Organizer
Preview the audio, noting tier one, tier two, and tier three vocabulary words your ELLs will need to know to support their comprehension of the important content within the audio. Play the audio segment for your students from beginning to end. Then, play a second time, pausing when students encounter the notable vocabulary. 
---
Background Knowledge
It is important, during planning, to identify any background knowledge that may need to be developed to support ELLs. By doing this, you can personalize learning by assigning students different pieces audio of based on their levels of English proficiency.
You can also introduce the audio piece by providing a brief description of the story or content prior to the student engaging with the audio. Pairing audio with a video related to the topic prior to listening to the audio is a popular strategy with Discovery Education resources.
---
Comprehension
In order to scaffold learning and support comprehension, provide ELLs with graphic organizers that will allow them make meaning of the audio.
When available, use the transcript to the audiobooks/podcast to allow ELLs to read along. This increases student's ability to comprehend the content as they can listen to the story and see the words at the same time.
Chunk the content of the audio by stopping and allowing students to discuss with a partner or small group what they have heard and learned. When combined with a strategy like Make It Concrete where students view a piece of media and create an image to represent the content and information they learned from the media, they have a creative way to take notes and process their learning. Video | PDF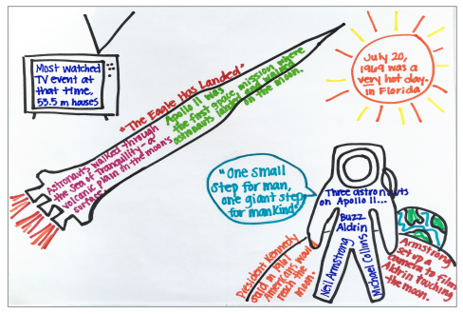 It is considered best practice to have the students listen to same piece of audio twice. The first time they can listen to understand language structures and function and key vocabulary of the story. For example, how to use a word in a sentence, how the reader's tone of voice changes or looking up the words they do not know. The second time they can listen to the audio to learn the content by focusing on an essential question.
Pause the audio at strategic points to check for understanding. The Pick a Card strategy involves students as active participants in group discussion. The teacher uses prepared question cards and encourages students to discuss content, using evidence from the media to back up their claims and opinions. Video | PDF
Whenever combining audio and strategies, it is important to provide native language support as much as possible.