In this step, you will learn how to access a growing library of ready-to-go resources to help administrators, staff development specialists, and educators share Discovery Education with colleagues. Everything needed to excite, engage, and encourage participants is contained within each toolkit and its notes.
---
As you begin to consider the best way to launch Discovery Education Experience, we recommend you download and customize a Professional Learning Toolkit.
Toolkits package information in easy-to-deliver presentations that help you anchor your message, demonstrate SOS Instructional Strategies, highlight resources, and ensures your educators learn foundational elements of Discovery Education Experience.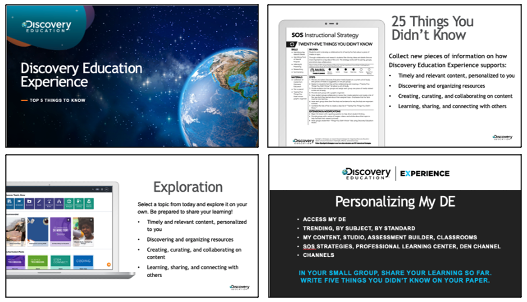 We offer toolkits in a variety of topics - including:
Experience: Top 5 Things to Know, Student Experience, Studio, SOS Instructional Strategies
Hot Topics: Language Learners, Special Education, Social and Emotional Learning, Literacy, STEM, Differentiation
Learning Management Systems (LMS): Google Classroom, Canvas, Schoology, and Microsoft Teams
As you explore these toolkits, think about who else you might empower leaders to use these toolkits and maximize their impact within your school or district.
---
✅ Complete this Step: Download a Professional Learning Toolkit located in the Instructional Leaders Channel (Canadian Subscribers). We recommend starting with Top Five Things to Know: Discovery Education Experience.