Discovery Education Studio is a creation and structured collaboration space designed with students and teachers in mind.
---
Teachers can use Studio to:
Develop and share content and take advantage of assignment flexibility
Use and share templates to speed up the creation process and save valuable time
Streamline collaboration among teachers
Support differentiation by varying the assignment of research, collection, and creation tasks to individual students or whole groups
Students can use Studio to:
Demonstrate knowledge in creative ways, easily synthesizing multiple types of digital content to tell their stories
Use content from Discovery Education Services and take pictures and shoot video directly from their mobile devices and then insert them directly into their projects
Use collaboration tools to build digital content together in a safe, secure, and controlled environment
---
---
Access and Launch Studio
Select Studio from My DE or from the grid navigation.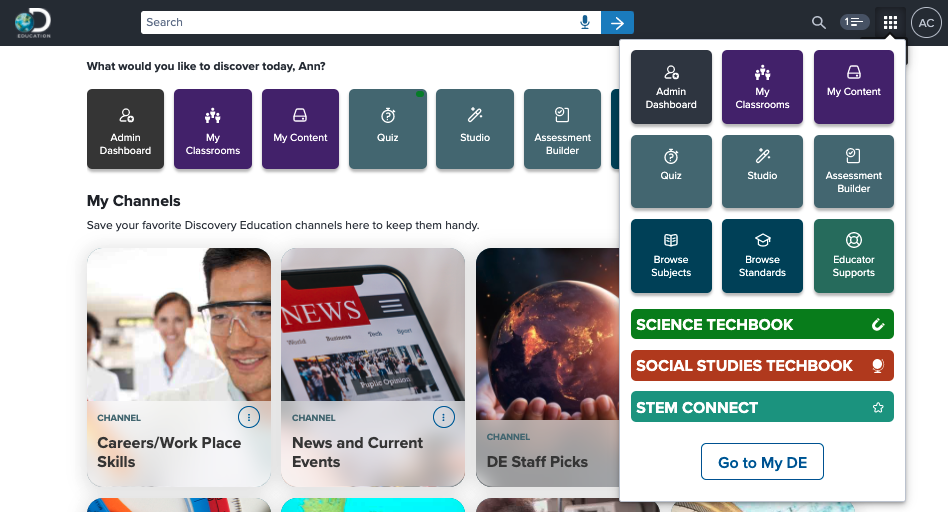 ---
Let's Create
To begin a new project, click Let's Create and then choose between a board or slideshow.
Activity Templates: Begin with a template based around the SOS Instructional Strategies you love.

Board: A multi-page project where pages can be as long as they want and include a scroll bar.

Slideshow: A multi-slide project where slides are a fixed size and designed for presentations.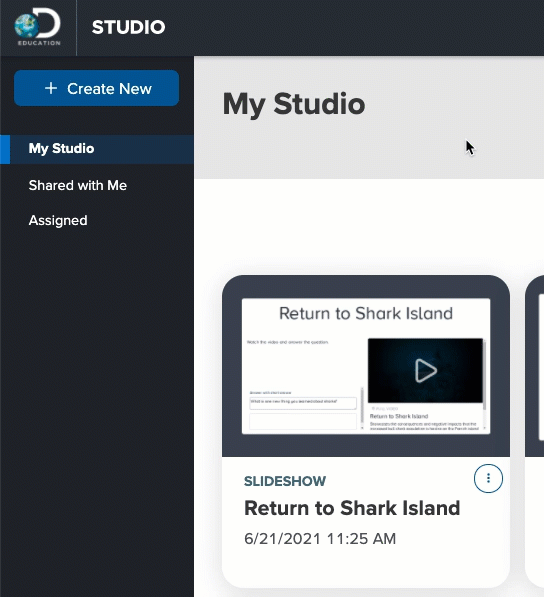 ---
Start with a Template
Access Studio from your My DE homepage and then select Create New to explore all the great templates.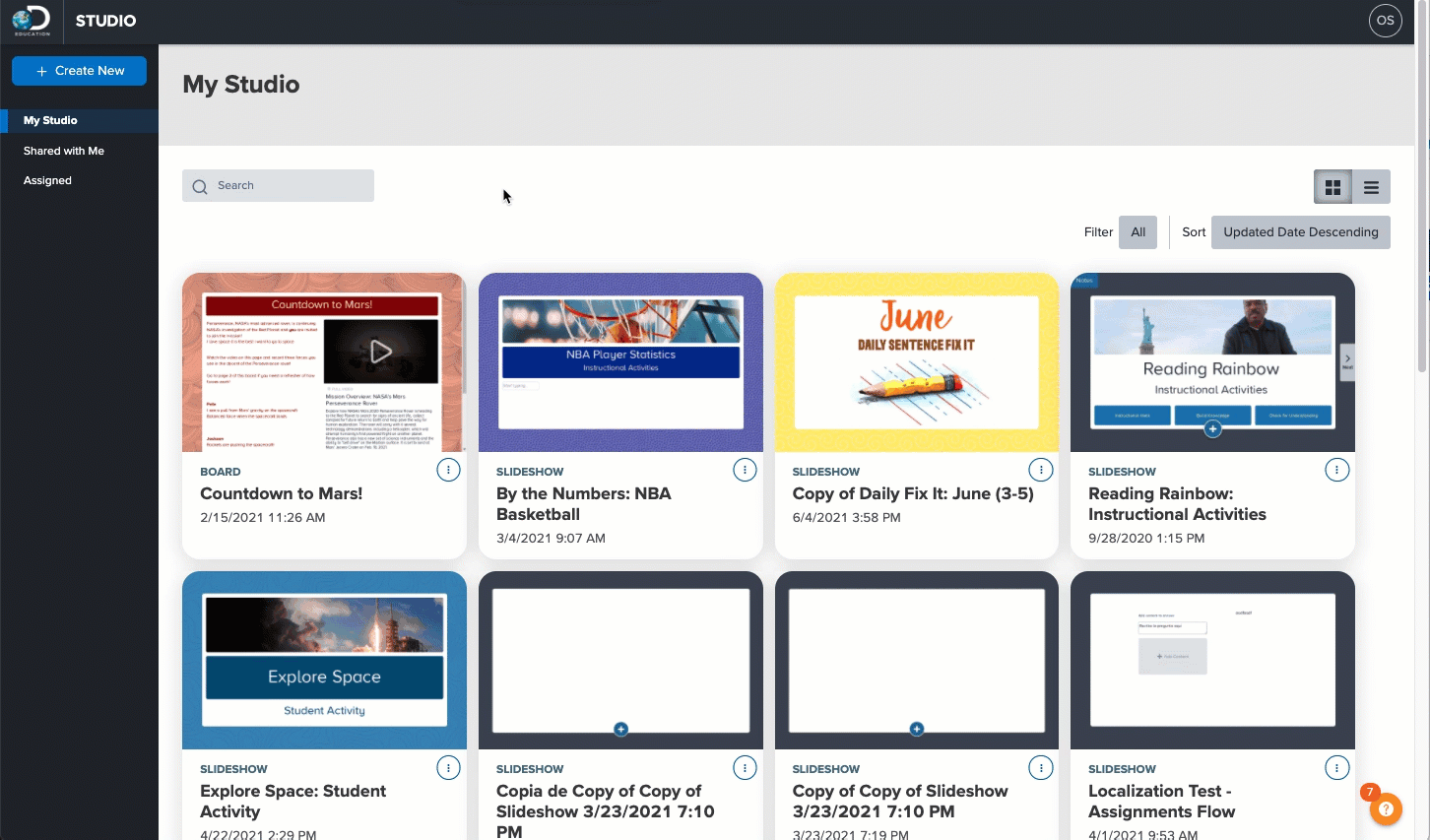 Once the template is open, explore the teacher notes on the left to learn more about the SOS Instructional Strategy and then, you can edit and place digital resources throughout the template as you would edit any other Studio project. You'll learn more about editing below.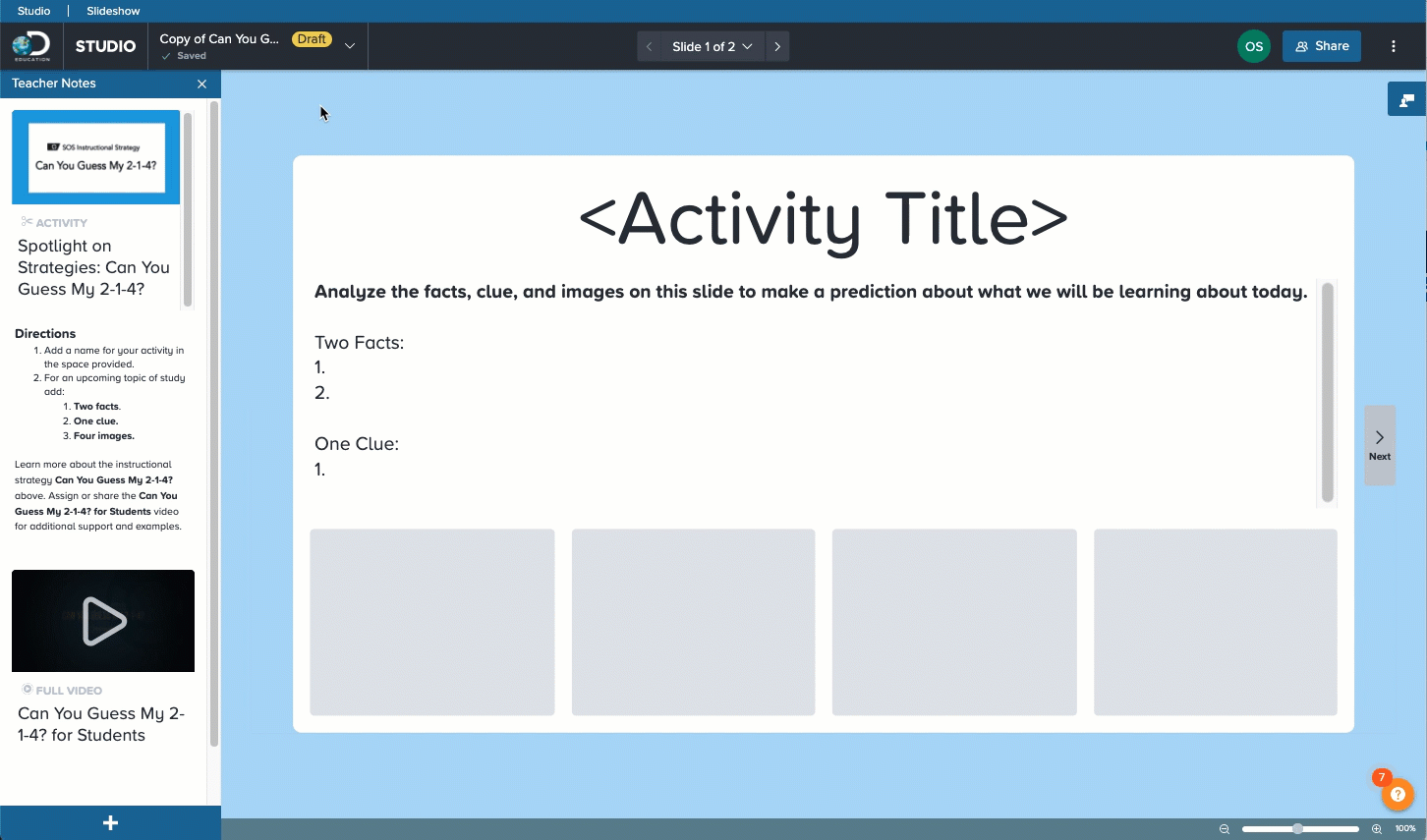 ---
Project Details
By default, your project will be named the time it was created. Edit the name and description through the dropdown at the top of the screen. This helps you and your students easily identify and organize your creation.
---
Add Content
Select the + to add content to your board. Import Discovery Education digital resources using Search or through your QuickList. You can upload from your device, including from camera rolls on tablets and phones. In addition to media, you can add text, buttons, and assessment questions.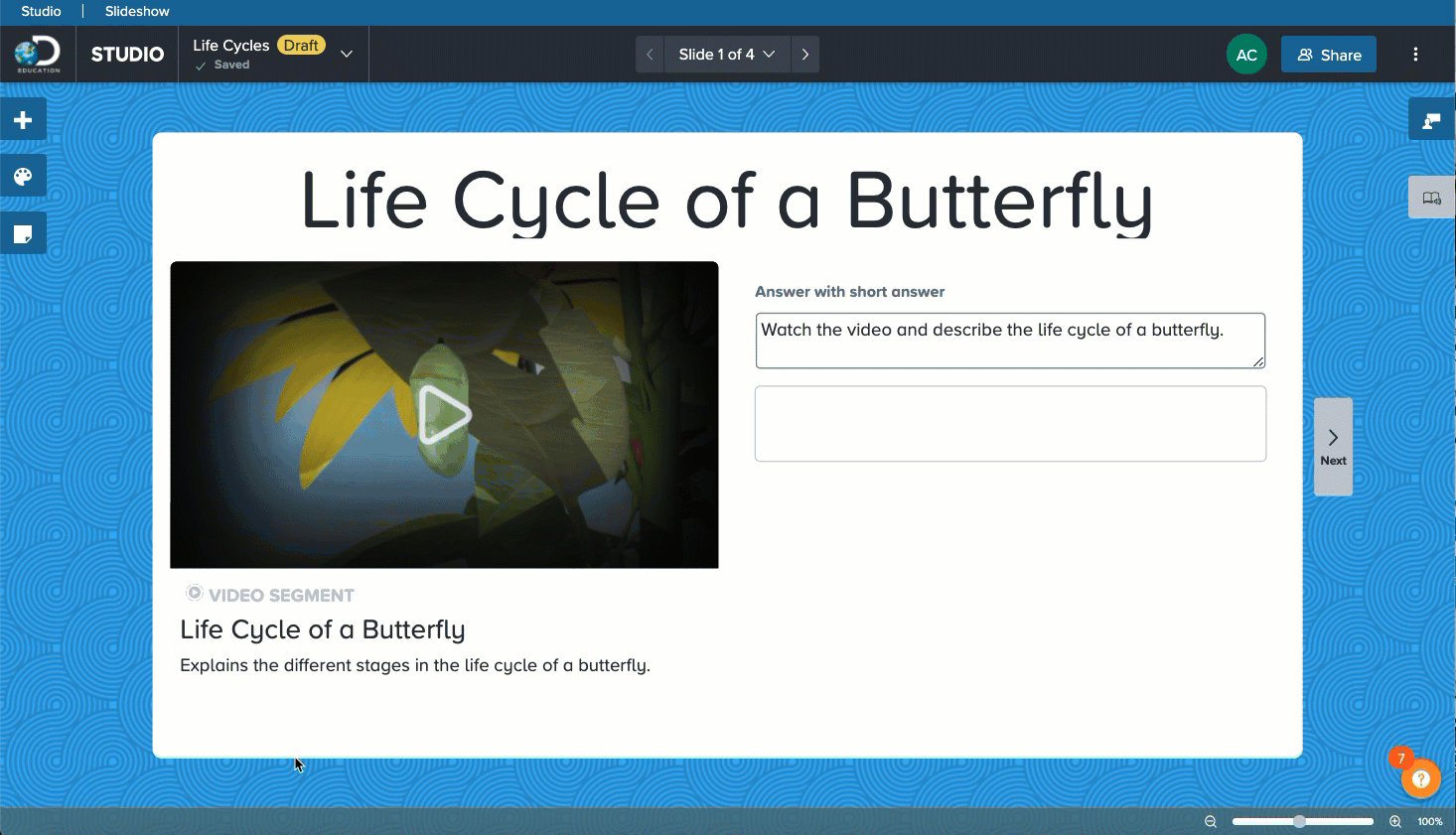 Options:
Search DE: Search Discovery Education resources and add to your project.
From My Content: Add any resource that has been saved to My Content to your project.
From QuickList: Add any resource that has been saved to your QuickList to your project.
Upload: Add your own content to your project (Upload Limit: 124 MB)
Text: Add text to your slide or board.
Button: Add a button which can link to a location within your Studio project (another slide or page) or link to an external URL.
Short Answer: A quiz question where students can answer with an open-ended response.
Single Selection: A quiz question that is multiple choice with a single correct answer
Multiple Selection: A quiz question that is multiple choice with multiple correct answers
Block: A quiz question for students to add a Discovery Education resource or upload their own resource.
In addition to the student-facing portion of your project (slides and pages), a Teachers Notes option is available for teachers to add notes about the lesson or resources to reference later. These notes are not available to students. Access Teacher Notes from the paper icon on the left.
---
Manage Your Project
No matter whether you are working in a board or a slideshow, you can manage your project in the dropdown drawer at the top. This includes adding blank or template pages/slides, as well as duplicating or deleting. In addition, you can title each page/slide to keep organized and re-arrange them in any order you need.
---
Add Colors and Themes
Within Studio, there are two options for customizing your project through themes, colors, and backgrounds. Access Customization options from the palette icon on the left side of the screen.
Image Backgrounds
On the Images tab of the Customization Panel, teachers and students can select from the image library to add a theme in the background of each page/slide. When adding new slides/pages, the background will remain the same, however, each page/slide can be changed to a unique image.
Color Backgrounds
At the top of the Customization Panel, teachers and students can select from a collection of colors to change the background of the page/slide. This selection also offers matching options when changing the color of the text throughout the slide to create a cohesive look.
On the Patterns tab of the Customization Panel, teachers and students can select from the pattern library to add a transparent background to their project. The transparent background will retain the color selection, but add a pattern to the background.
When adding new slides/pages, the color background will remain the same, however, each page/slide can be changed to a unique color and pattern.
---
Edit Your Project
Once a resource, text, button, or assessment question has been added to your project, it has many options:
Resize: Select the circle in the bottom right of the object and drag it to make it larger or smaller.

Move: Click the grab handle (six vertical dots) in the upper right corner of the object to move it around on your project.

Manage: With the object selected, a menu opens with a few options:

Pencil: This allows you to edit the object. These features vary based on the type of module, but allow you to change the layout, fill, display options, style, etc. Here, you can also click Replace to remove the resource and add a new one.

Double Square: This allows you to duplicate the object on the same page or slide.

Arrows: This allows you to replace the resource by searching for another one.

Trashcan: This allows you to delete the object from your page or slide.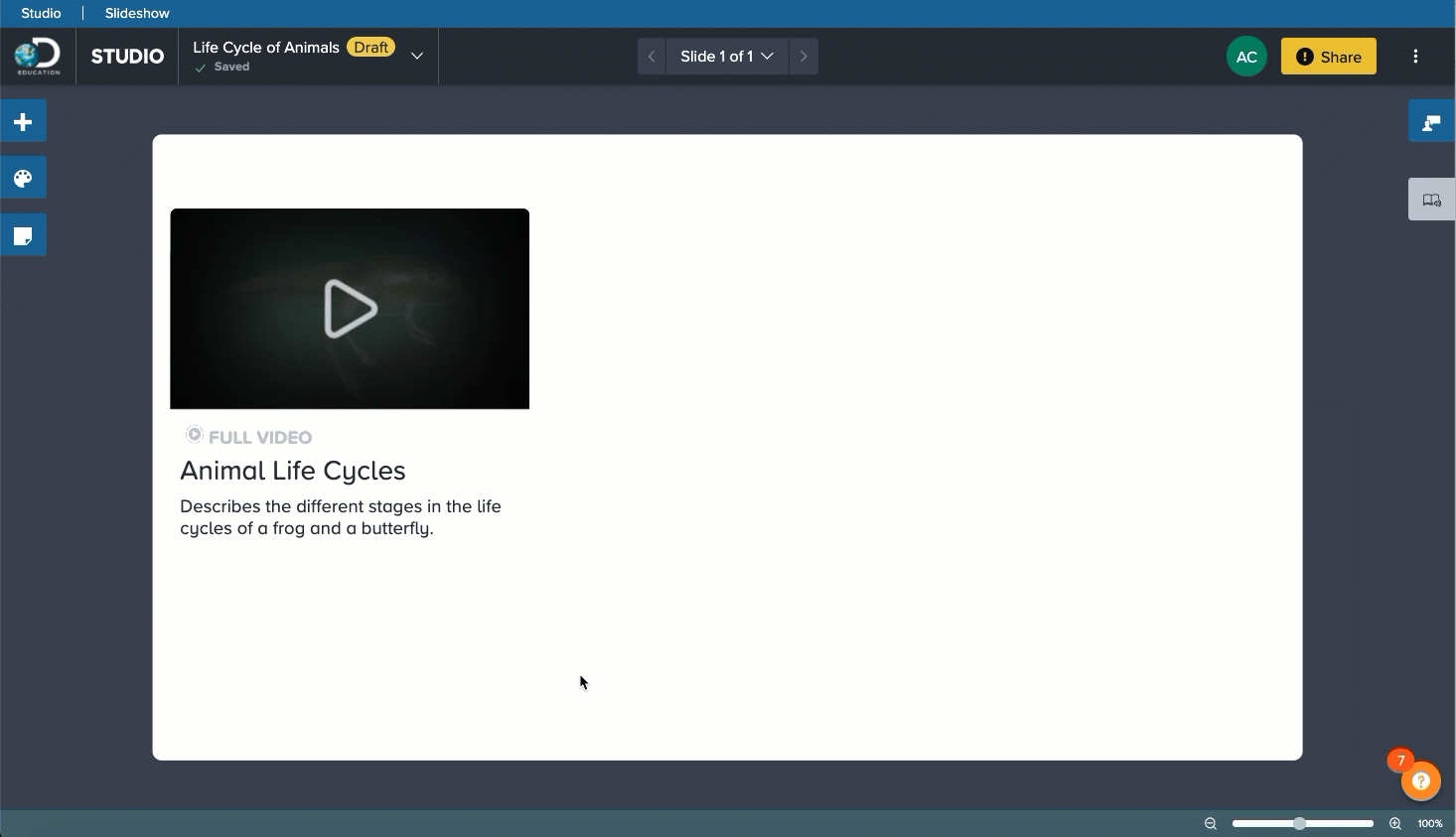 ---
Immersive Reader
On the right side the board or slideshow, students and teachers will find the Immersive Reader icon. This opens up many accessibility options, such as:
Read aloud text
Access a picture dictionary for words
Translate text to over 60 languages
Change the size, style, and color of the text
Use a line focus tool while reading
Highlight the grammar throughout the text
Learn more about Immersive Reader.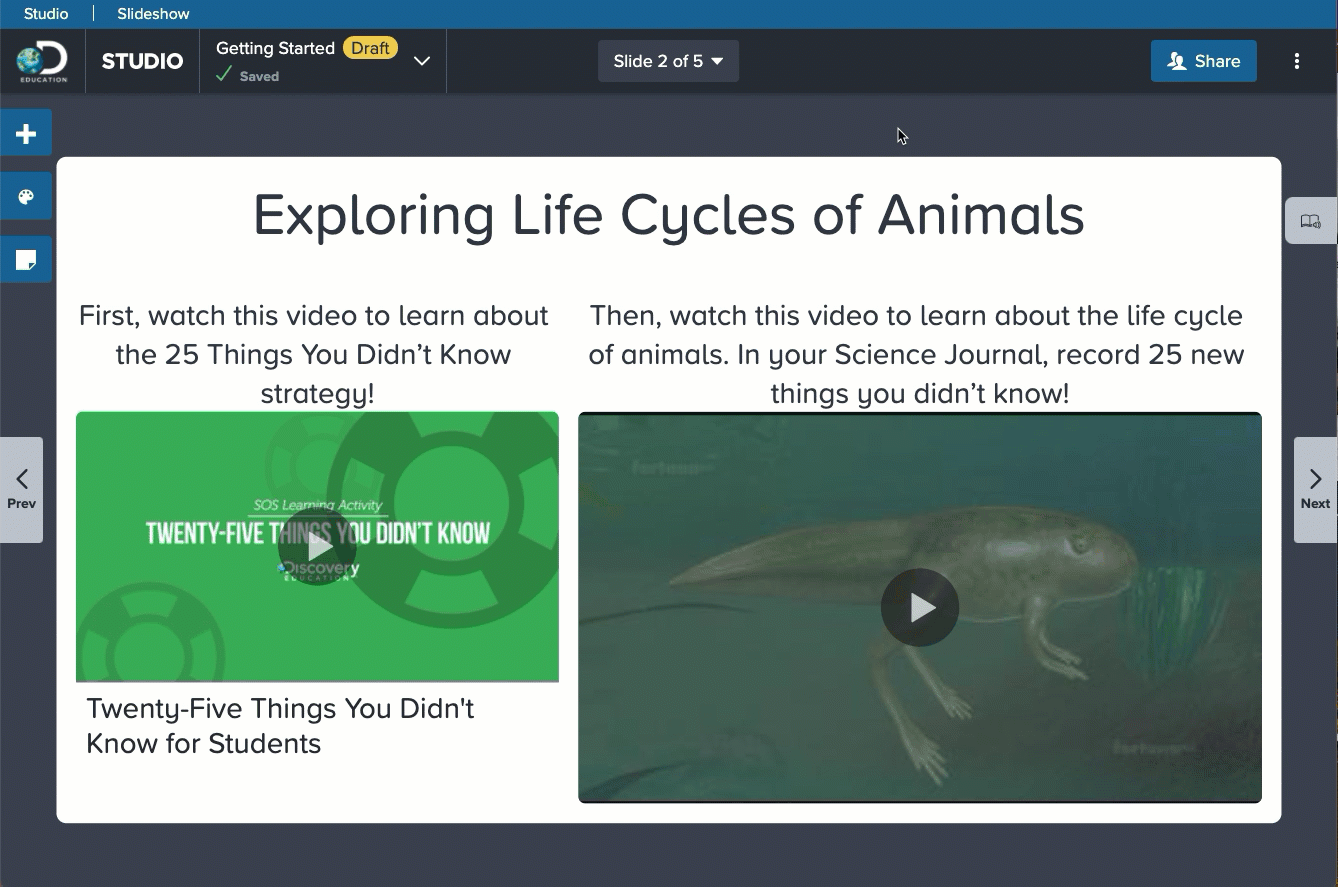 SaveSaveSaveSaveSaveSaveSaveSaveSaveSaveSaveSaveSaveSave