Communicate and share your ideas, findings, conclusions, and reports with Discovery Education Studio.
---
Should I Use Studio?
One of the best ways to communicate and share your ideas, findings, conclusions, and reports is to use Studio. You can include all of the following on a board or slideshow: text, video, images, audio, and buttons.
Here's a quick way to determine whether Studio is right for you. You need to share some ideas. Do you ...
Want to make something like a poster or slideshow but need to include digital media, such as video and audio?
Want to include some design elements?
Want to present your results, findings, or your own images or video?
Want to include some of the resources you found in your Discovery Education account?
Want to include all of the above by clicking buttons, instead of downloading/copying/pasting/inserting?
If you said "yes" to any of the above, then Studio is for you!
---
Resources and Information
You can include almost any resource you can find or create.
Text boxes let you include writing -- you can include pieces of your own writing or cited writing from other sources.
Images let you include pictures -- you can include images from Discovery Education, images from other sources, or photographs/drawings/diagrams that you create. If you create something in 3D, take a picture of it and include it as an image on a Board.
Videos let you include video -- just like with images, you can include video from Discovery Education or other sources. You can also easily upload video that you created.
---
Access and Launch Studio
Select Studio from the left side menu. 
---
Let's Create
To begin a new project, select +Create New and then choose between a board or slideshow.  
Board: A multi-page project where pages can be as long as you need and include a scroll bar. 

Slideshow: A multi-slide project where slides are a fixed size and designed for presentations.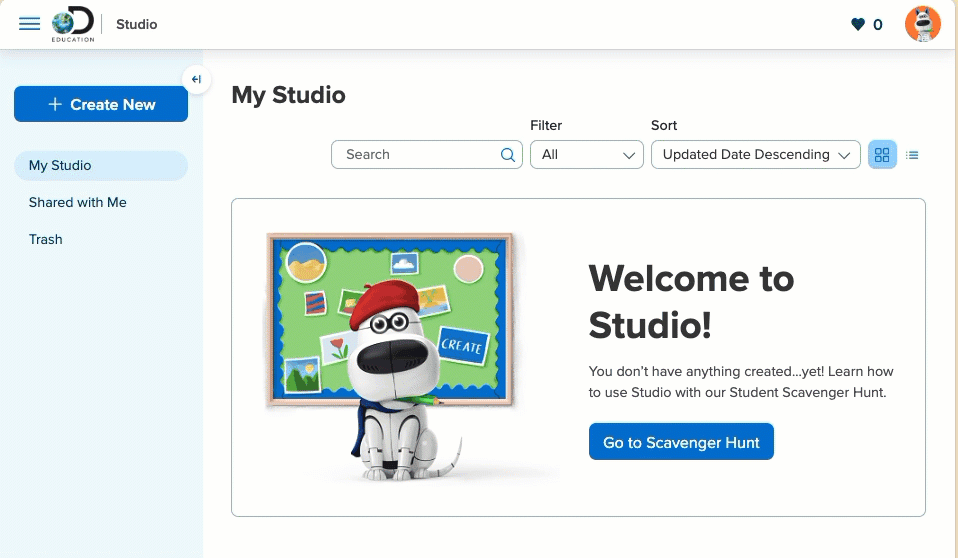 ---
Project Details
By default, your project will be named the time it was created. Edit the name and description through the dropdown at the top of the screen. This helps you and your students easily identify and organize your creation.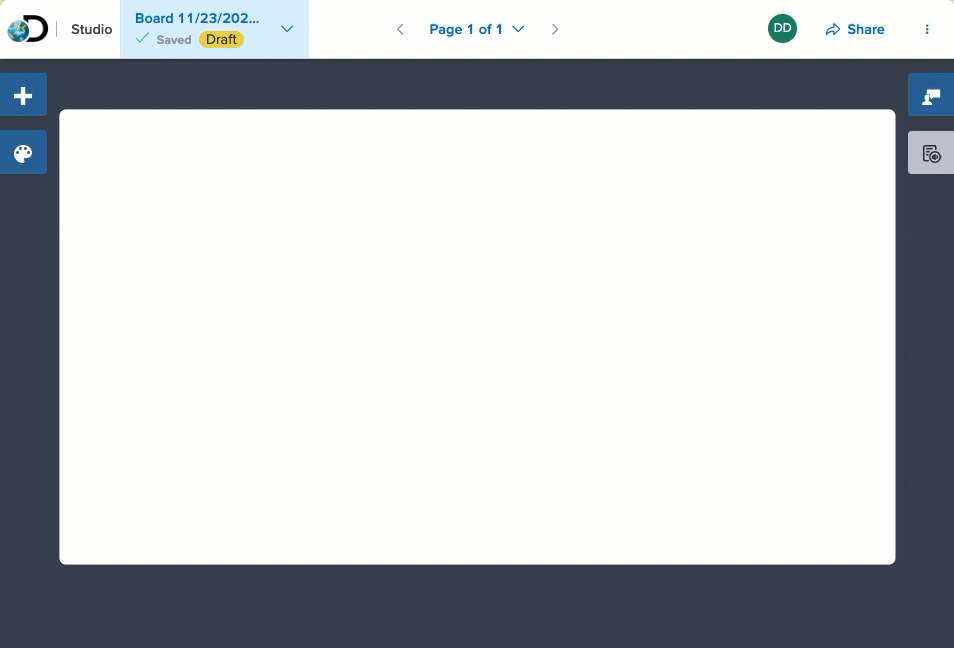 ---
Add Colors and Themes
Within Studio, there are two options for customizing your project through themes, colors, and backgrounds. Access Customization options from the palette icon on the left side of the screen.
Image Backgrounds
On the Images tab of the Customization Panel, teachers and students can select from the image library to add a theme in the background of each page/slide. When adding new slides/pages, the background will remain the same, however, each page/slide can be changed to a unique image.  
Color Backgrounds
At the top of the Customization Panel, teachers and students can select from a collection of colors to change the background of the page/slide. This selection also offers matching options when changing the color of the text throughout the slide to create a cohesive look. 
On the Patterns tab of the Customization Panel, teachers and students can select from the pattern library to add a transparent background to their project. The transparent background will retain the color selection, but add a pattern to the background. 
---
Add Content
Select the + to add content to your board. Import Discovery Education digital resources using Search or through your Favorites. You can upload from your device, including from camera rolls on tablets and phones. In addition to media, you can add text, resources, and buttons.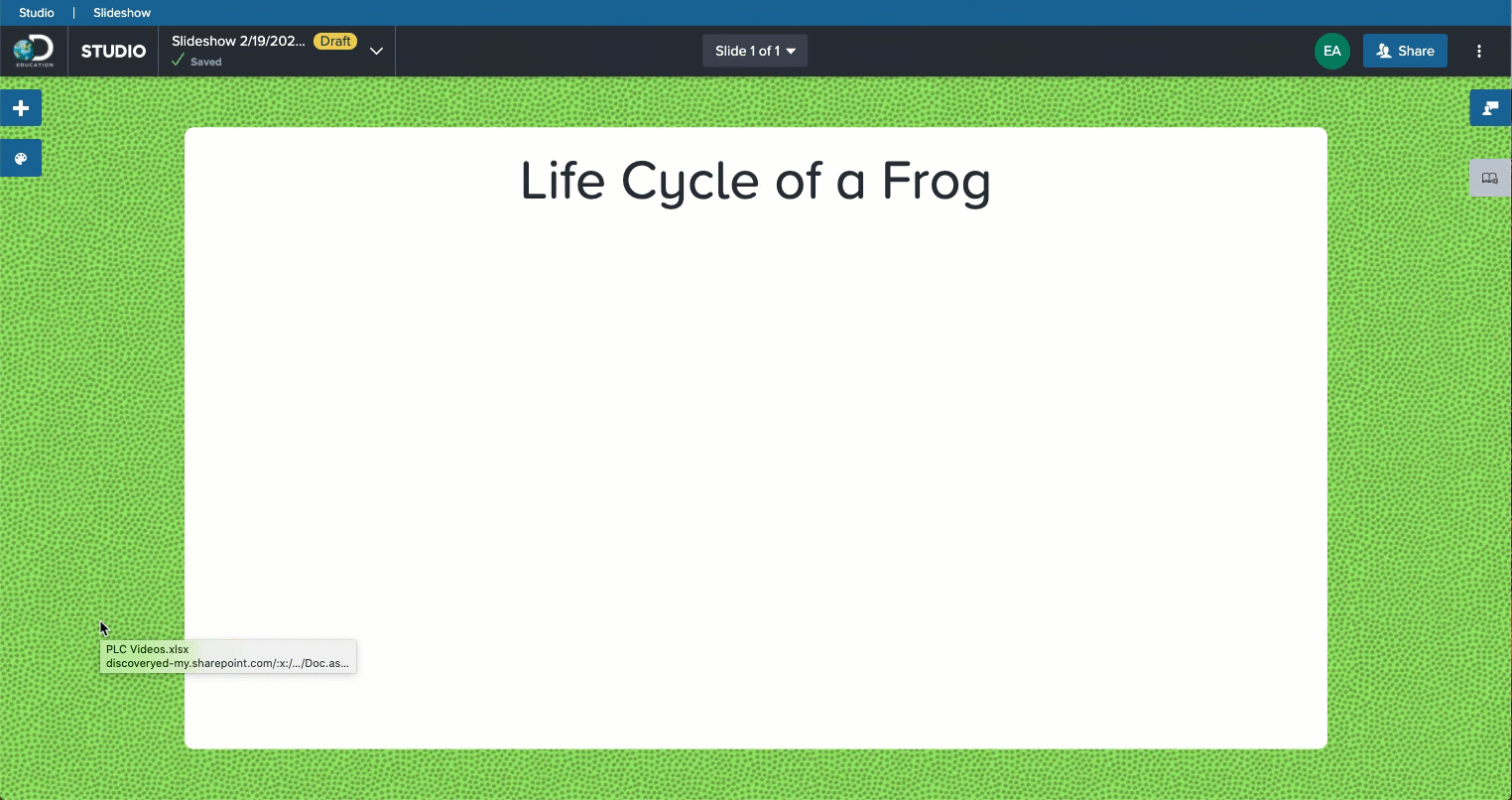 ---
Sharing
It is easy to share your board. In Studio, you can share your board and enter their name to give them access to your board or share the URL with your teacher.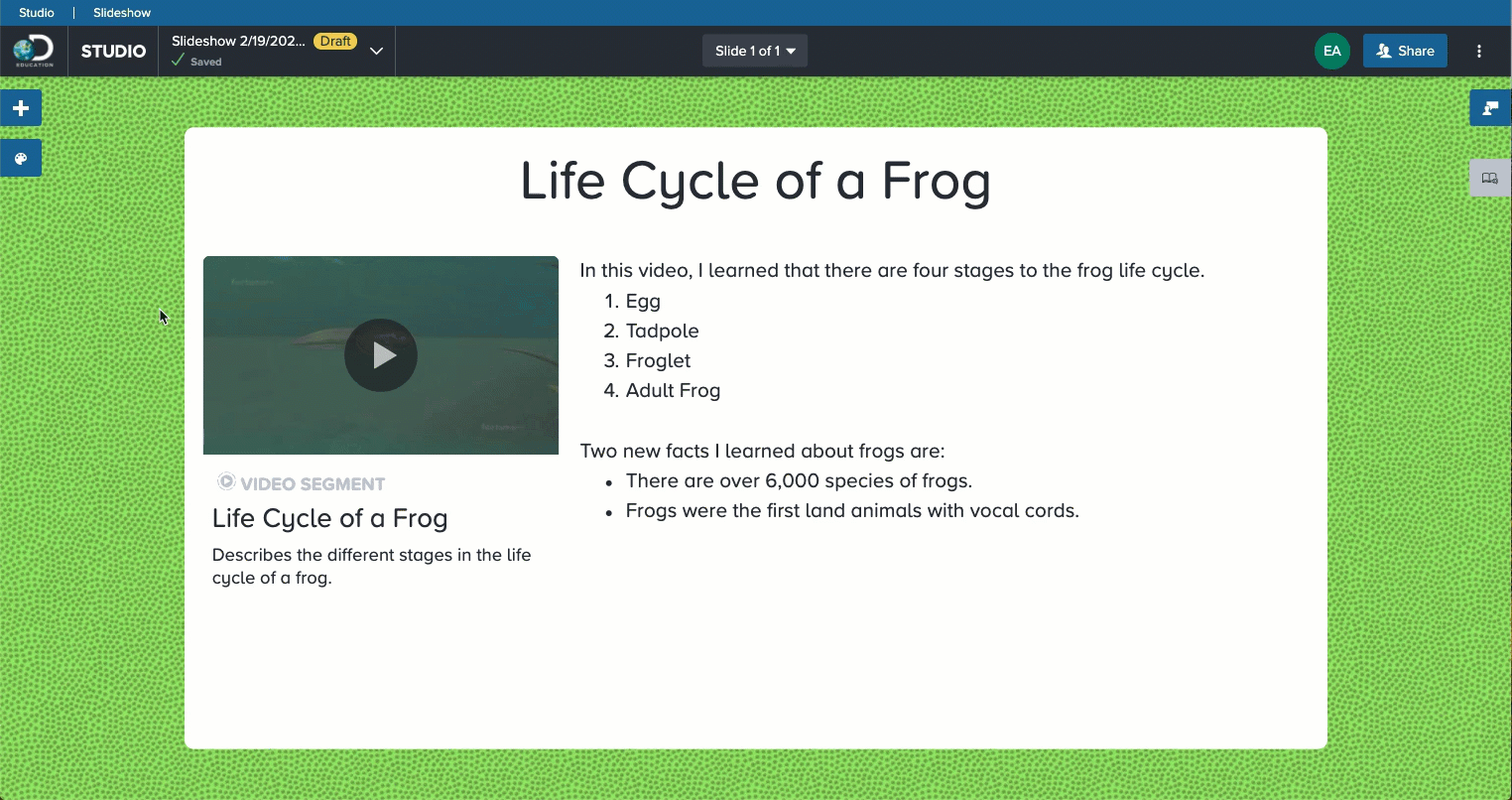 ---
Citations
It is important to include citations for all the non-original content on your board. Give credit where it is due. Discovery Education makes it easy to include citations for your resources by providing you the option to add text to your board or slideshow. Additionally, any Discovery Education content will automatically display the citation information. 
Interested in sharing this information with your students? Share this Studio Board (Canadian Subscribers) to guide their communicating. [This requires a Discovery Education login.]