On any concept page, access a number of functional tools from the toolbar, including language options, student responses in the Dashboard, an interactive glossary, and a variety of math tools.
---
Overview
After selecting a unit, you have access to all parts of the unit, including the concepts taught, print and digital resources, a model lesson with ideas and strategies for instruction, assessments, review materials, hands-on activities, student assignments, preparation information for teachers, and more.
From a concept page, you can access a number of functional tools from the toolbar.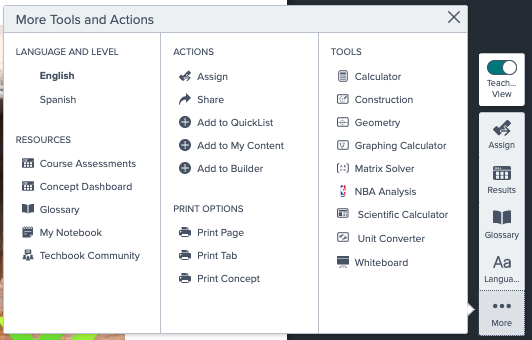 Language & Level - choose between English or Spanish
Resources -
Course Assessments - access summative assessment data for the concept
Concept Dashboard - access formative assessment data for the concept
Glossary - access key academic vocabulary found within the concept with a definition, key context sentences for the term, images or diagrams, an animation that helps describe the term, and a video segment discussing the term. Learn more about the Glossary below.
My Notebook - highlight important concepts or vocabulary, then the interactive text automatically adds to the interactive notebook. Add new or additional notes, and the notebook saves and organizes it by course, unit, and concept.
Actions - add this concept to My Content or Quicklist for easy access later, assign to students, share with colleagues or students, or add to a Discovery Education Builder Tool.
Print Options - get a printer-friendly version of the page for printing or saving as PDF for offline access. Choose to print the page, all pages within the tab, or all tabs within the concept.
Tools - provide support for students as they interact with content. Most Tools have a snapshot feature that allows students to capture an image of their work, save to My Content, and then submit as part of an Investigation or Apply. Tools are authentically integrated within Investigations, including a whiteboard, unit converter, matrix solver, three kinds of calculators, and more.
Teacher View - toggle on and off to display teacher-only information, such as Teacher Notes and Model Lesson materials.
---
Glossary
Key academic terms in Math Techbook are linked to the Glossary. The Glossary can also be launched anytime from the toolbar.

Each term includes an animation that helps describe the term, details that include a definition and key context sentences for the term, a video segment discussing the term, and images or diagrams.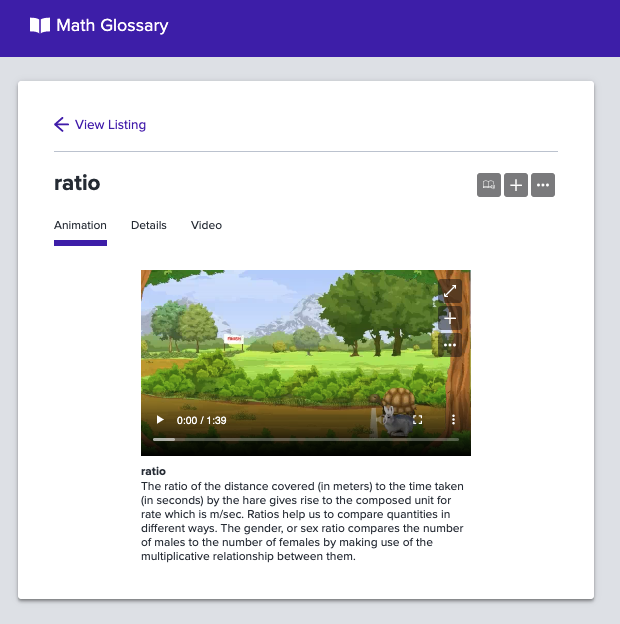 Definitions and key context statements are provided in both English and Spanish. Interactive Glossary terms are embedded throughout the Math Techbook or they also can be found through the general keyword search.
Immersive Reader
The Math Techbook Glossary also includes the Immersive Reader functionality. Click the icon to open Immersive Reader which opens up many accessibility options, such as:
Read aloud text
Access a picture dictionary for words
Translate text to over 60 languages
Change the size, style, and color of the text
Use a line focus tool while reading
Highlight the grammar throughout the text
Learn more about Immersive Reader.