Access Discovery Education STEM Connect with a view that lets you browse by course and unit, and explore the tools and resources found throughout STEM Connect.
---
Accessing STEM Connect
Select STEM Connect from the Curriculum Packs section of your My DE homepage. You can also access STEM Connect from any page using the menu in the upper left corner.

---
Switch Grade Bands
STEM Connect opens to the grade band you last visited. To switch grade bands, select the dropdown and choose the preferred grade levels. The courses in STEM Connect are multi-grade.
Access Additional Resources
With Teacher View ON, click the STEM Connect Materials dropdown to access all materials for the grade band.

NAE Grand Challenges and UN Sustainable Development Goals: These provide you background information on the NAE Grand Challenges and UN Sustainable Development Goals upon which STEM Connect is grounded in through our 8 Real World Challenges.

Literacy Guides: This guide connects key literacy skills (ask and answer questions, make predictions, identify cause and effect, etc.) to the STEM Connect Solution Seeker stories.

National Standard Alignment: STEM Connect was built to align to national standards in multiple disciplines. Each unit was benchmarked against frameworks in literacy, math, science, social studies, arts, health education and technology. Teachers can use the standards alignment document to help with unit sequencing. For example, if your school or district usually teaches the water cycle in the spring, you can look for units that align to those science standards using the standards alignment matrix. In this way, STEM Connect can help reinforce learning in core subjects and provide ways to students to connect ideas and concepts across disciplines.

Interdisciplinary Unit Alignment: This provides an at-a-glance overview of the 32 interdisciplinary units included in STEM Connect.

eLearning Course: This interactive course is self-paced and designed to support you in learning about the ins and outs of STEM Connect.
Standards: Explore how STEM Connect aligns with national standards as well as many
Below the units, you will find the content connections for the grade band. Each tile will open a channel of resources – including connections for social studies, math, art, and literacy as well as direct access to the hands-on activities and STEM solution seeker stories.
Next, you will find the collection of STEM Career Videos for the grade band. Each Career highlights what a person in the career does and shows where in STEM Connect the career is highlighted.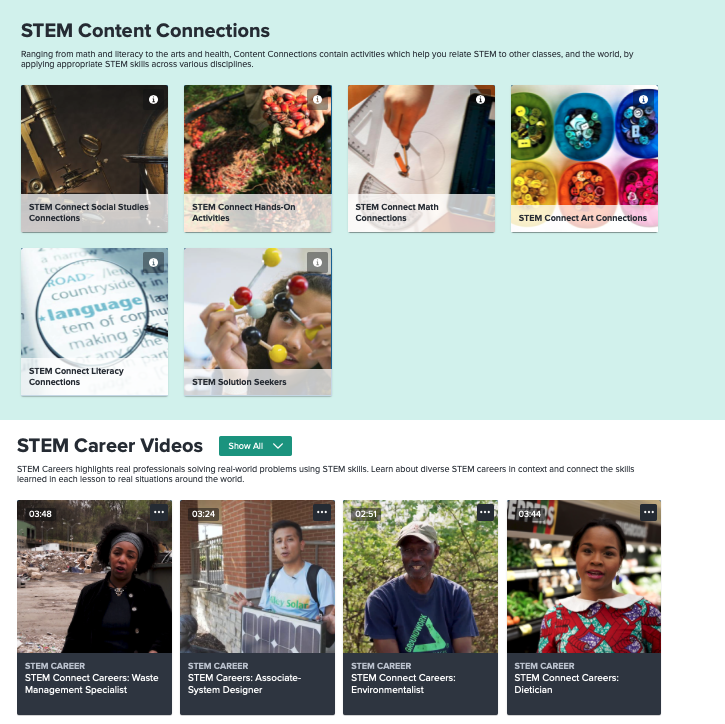 ---
Unit Navigation
Each STEM Connect grade band is divided into 8 units, based on the real-world challenges based on the NAE Grand Challenges and UN Sustainable Development Goals.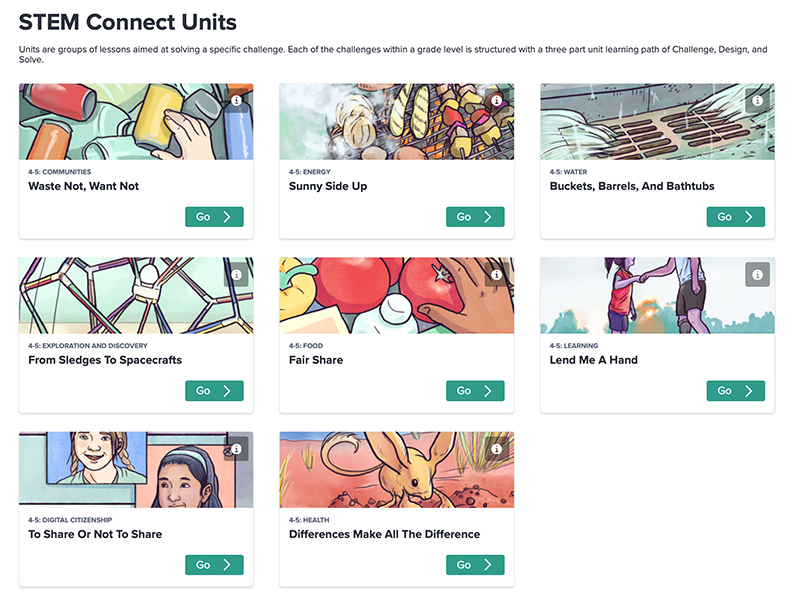 Each Unit contains 5-6 lessons which align with the Challenge, Design, Solve engineering design process.

Below the lessons, you can find related content connections and careers for the specific unit.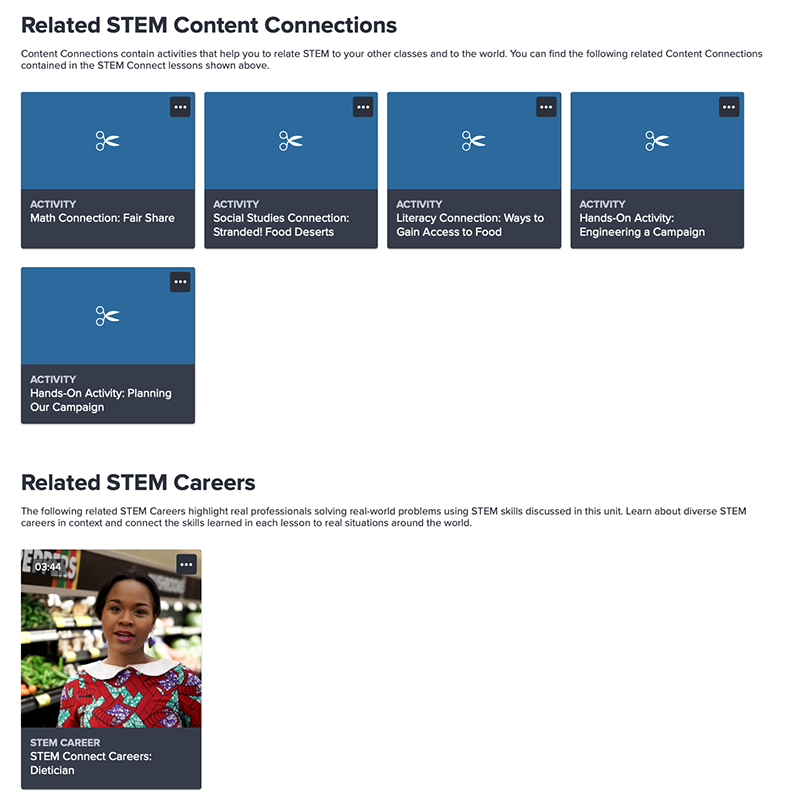 ---
Lesson Features
On the left side of any STEM Connect lesson, there is a Notes button. This is only viewable by teachers. This section contains supporting information for the teacher with instructional guidance and additional resources.
On the right side the lesson, students and teachers will find the Immersive Reader icon. This opens up many accessibility options, such as:
Read aloud text
Access a picture dictionary for words
Translate text to over 60 languages
Change the size, style, and color of the text
Use a line focus tool while reading
Highlight the grammar throughout the text
Learn more about Immersive Reader.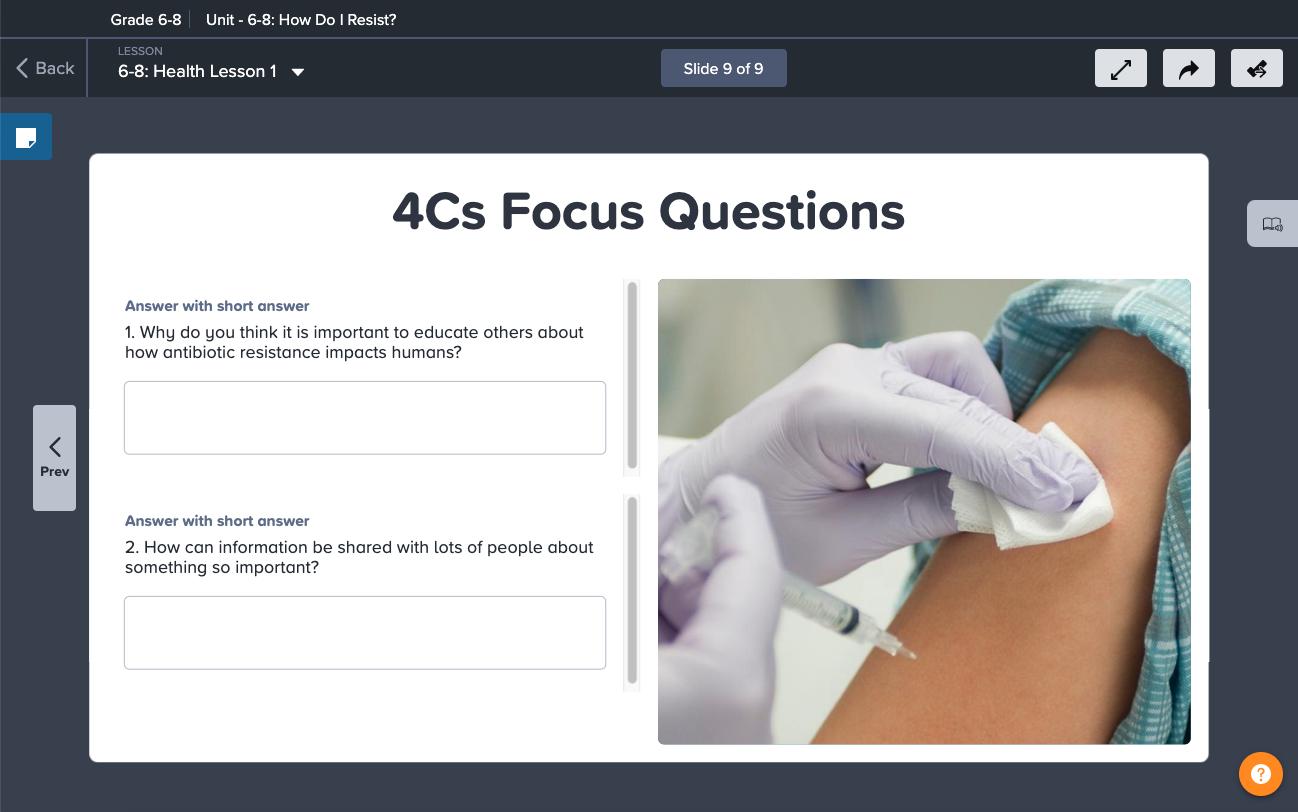 ---
Community Spotlight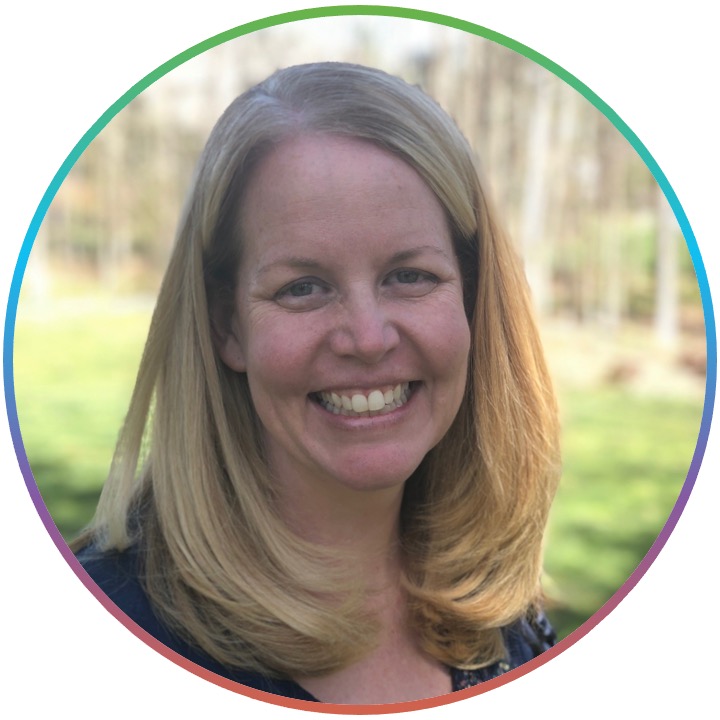 "STEM Connect is an amazing collection of high-quality resources. Through the lessons, students identify global real-world problems like food scarcity, plastic trash in the oceans, and water shortages and work to use their problem solving skills creatively to solve design challenges with a team of classmates. The STEM Connect lessons include reading passages, math challenges, and creative design problem solving that encourage collaboration and communication with others. Students are excited to find creative solutions to STEM challenges that could help to solve global problems."
- Kim Castner, 4th Grade Teacher, Stallings, NC