A guide to exploring Discovery Education Math Techbook in ten easy steps.
---
Step 1: Sign In
Navigate to discoveryeducation.com or your custom URL. Input your username and password and select Sign in.
---
Step 2: Select Math Techbook
Select Math Techbook from the Curriculum Packs section of your My DE homepage. You can also access Math Techbook from any page using the Global Nav menu in the upper left corner.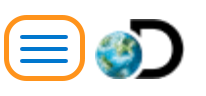 ---
Step 3: Navigate to Your Desired Math Techbook
If your school or district has access to more than one Math Techbook course, select the specific course or grade level from the Course menu.

---
Step 4: Select a Unit
Navigate to the Table of Contents to review the available units of study and corresponding concepts for the course. Here, select Standards for each concept to see the grade-level standards, or use the Expand All button to see all standards addressed in the unit.
From the Overview tab, or the Table of Contents tab, select the desired Unit to continue.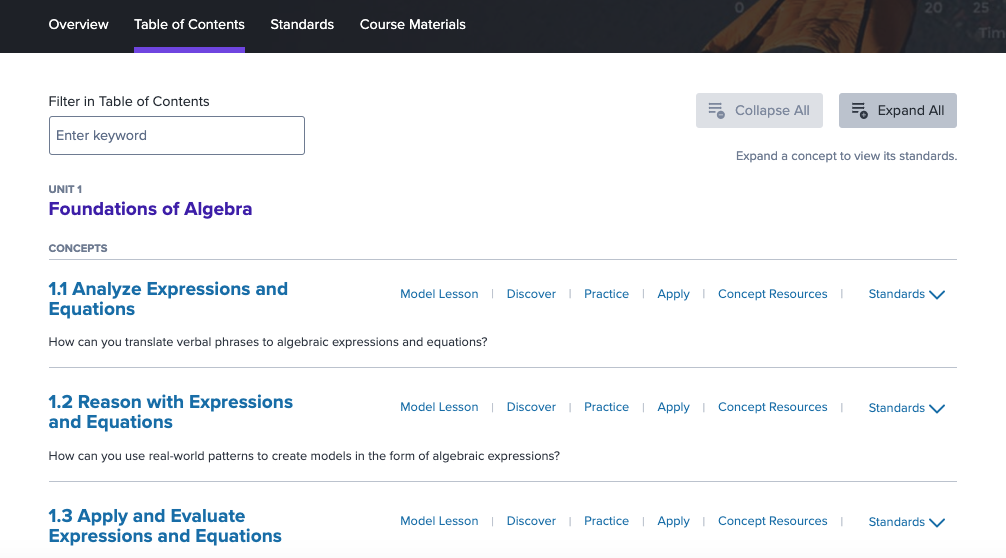 ---
Step 5: Watch the Unit Opener Video
From the Unit Overview, navigate to the Unit Opener video. This introduces students to what is covered in the entire unit.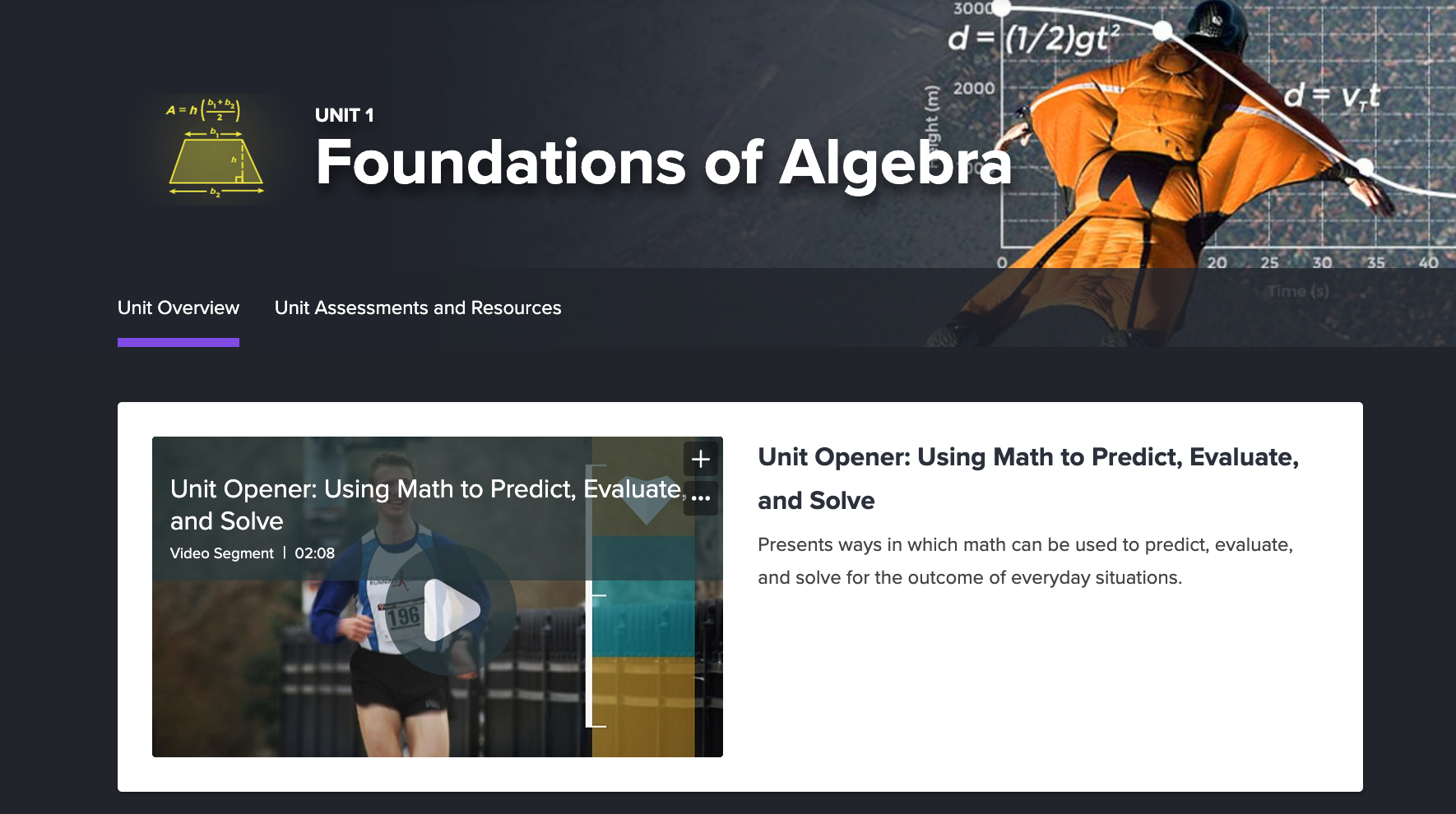 ---
Step 6: Dive into the Model Lesson in a Concept
From the Unit Overview, select a Concept and begin to explore with the Model Lesson. The Model Lesson provides teacher preparation information, suggested instructional pathways and strategies, and models use of Discovery Education digital resources.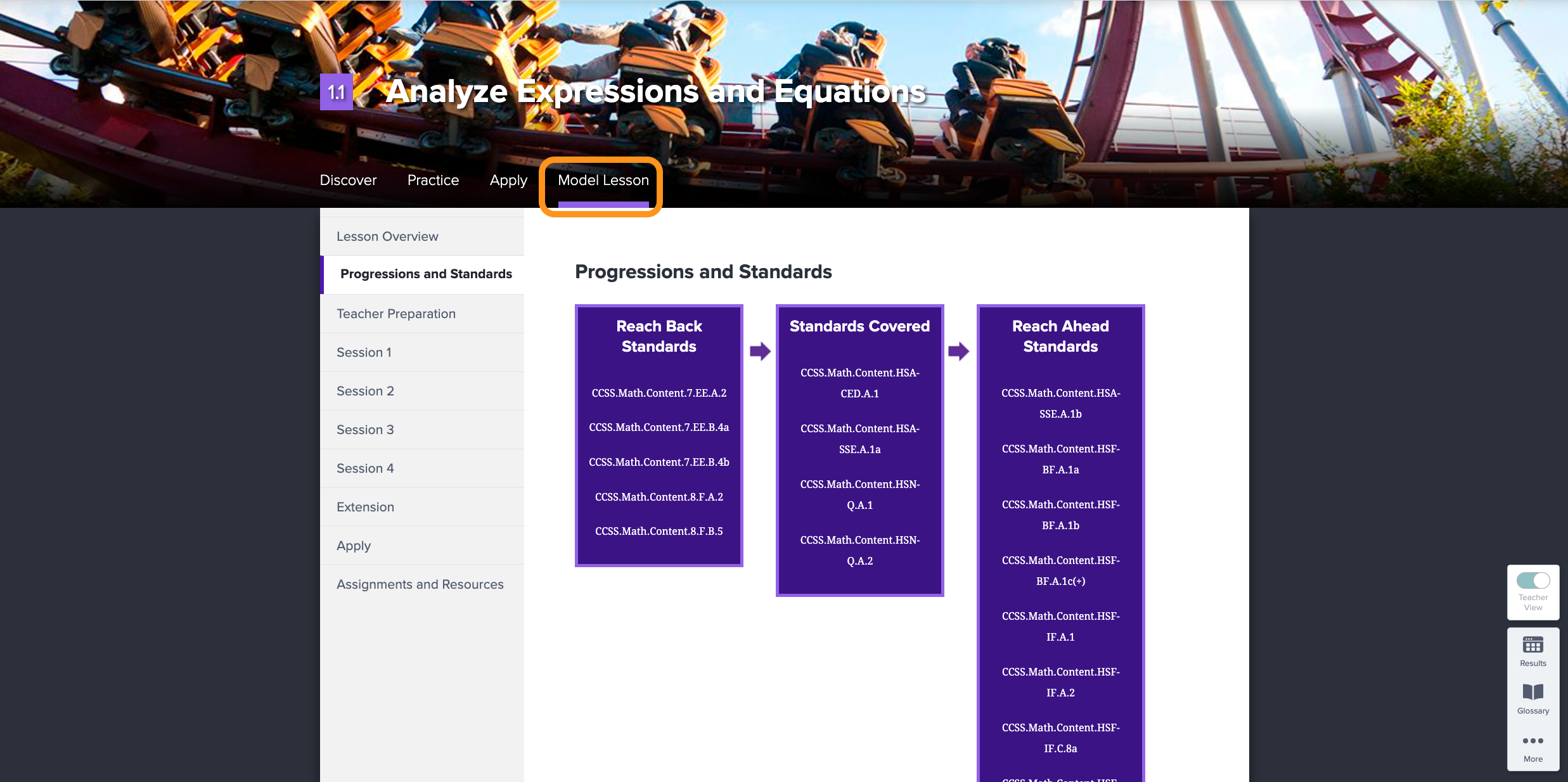 ---
Step 7: Select Discover and Explore Investigations
The first phase of the instructional cycle, Discover, utilizes content that's relevant to the concept being learned and is divided into Engage, Investigate, and Summarize. 
In Engage, students activate prior knowledge that's necessary to support new learning presented in the investigations that follow. Embedded Technology Enhanced Items (TEIs) help you uncover what students already know about a concept, including their preconceptions and misconceptions.
In Investigate, students develop solutions for problems using what they've previously learned or discovered. Some investigations include Math Interactives. 
In Summarize, view an outline of key information for students to understand in each Concept.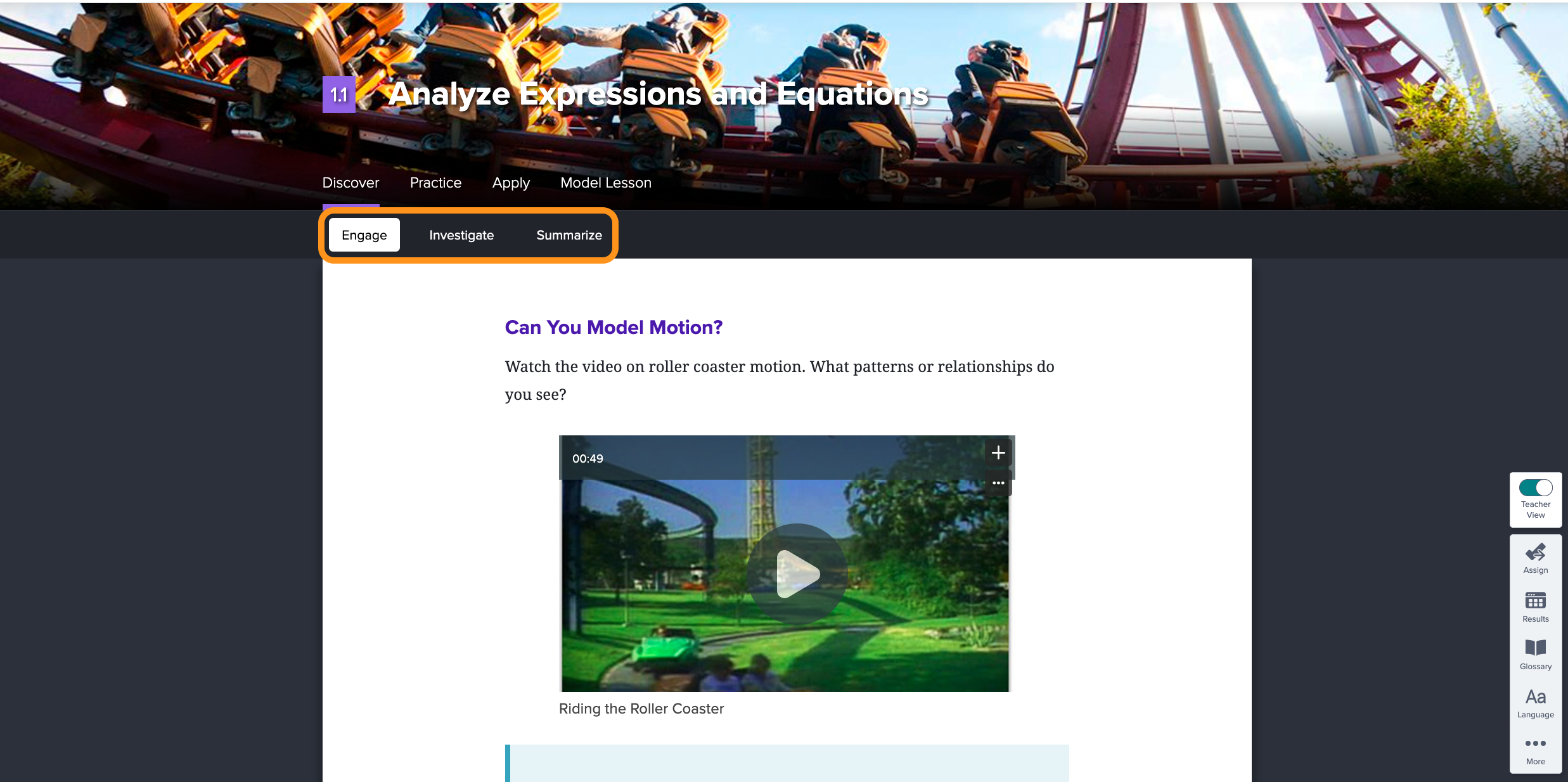 ---
Step 8: Select Practice and Explore Coach and Play
The Practice phase of the instructional cycle develops procedural fluency and reinforces concepts. After demonstrating understanding in Discover, students move to Practice, which offers two types of support: Coach and Play.
With Coach, students get direct feedback on their constructed responses. Questions are varied so that students must apply their understanding of a concept to solve them. 
Play provides independent practice. It consists of exercises where students practice the current concept at their own pace. 
With Coach and Play, students can see their results on their dashboard.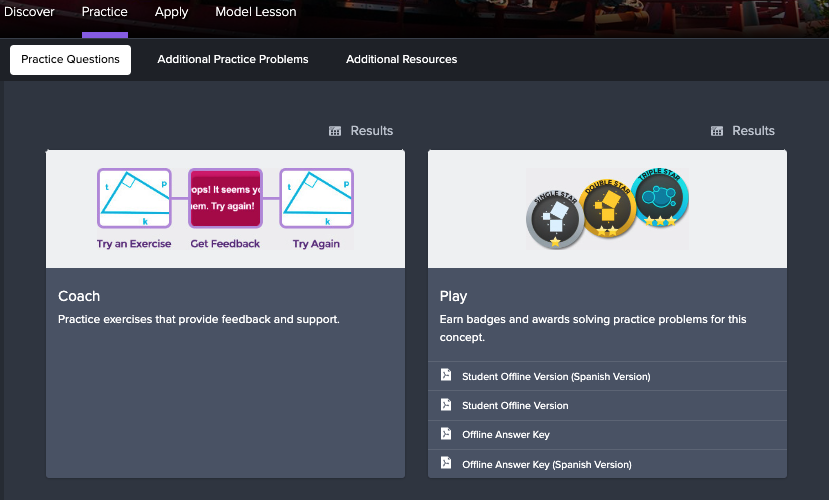 ---
Step 9: Select Apply and Explore Apply Problems
In Apply, the final phase of the learning cycle, students are given several contextual problems where they independently apply what they've learned during Discover and practiced through Practice.
Apply provides students the opportunity to synthesize their understanding of a concept through relevant, authentic problems.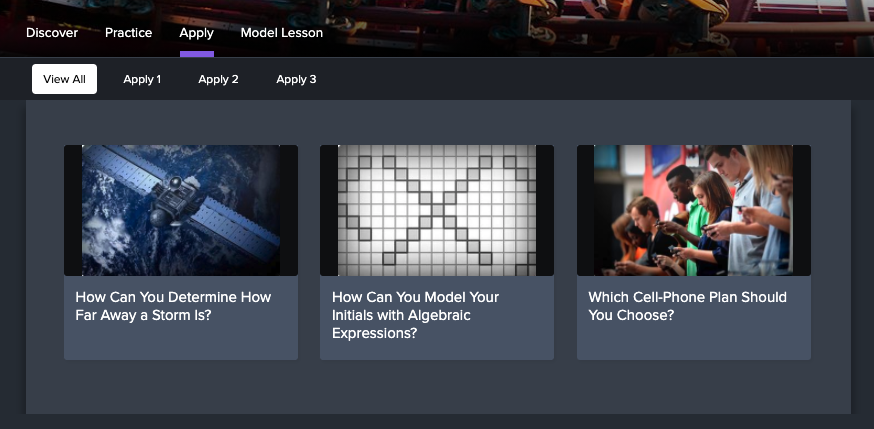 ---
Step 10: Explore the Dashboard and Math Tools
From the toolbar, navigate to Results to access the Concept Dashboard (formative assessments) and Course Assessments (summative assessments). The Dashboard is where teachers and students view and analyze the data and evidence collected.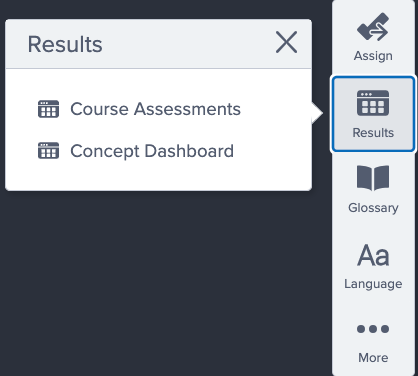 Based on this data and evidence, you can differentiate instruction to create a more personalized learning environment as well as determine if your students have mastered the content.
Math Tools allow students to explore mathematics interactively, and to communicate mathematically - creating graphs, constructions, and other mathematical artifacts and sharing screenshots of them with teachers and classmates.
Explore the My Dashboard, Glossary and Math Tools featuresSSave Save Save Save Save