A guide to exploring Discovery Education Math Techbook in ten easy steps.
---
Step 1: Sign In
Navigate to discoveryeducation.com or your custom URL. Input your username and password and select Sign in.
---
Step 2: Select Math Techbook
Select Math Techbook from the Curriculum Packs section of your My DE homepage. You can also access Math Techbook from any page using the menu in the upper left corner.

---
Step 3: Navigate to Your Desired Math Techbook
If your school or district has access to more than one Math Techbook course, select the specific course or grade level Techbook from the Course menu.

---
Step 4: Select a Unit
Select Table of Contents to review all available units of study and corresponding concepts for the course. Select Standards on each concept to see the grade-level standards for the concept, or use the Expand All button to see all standards addressed in the unit.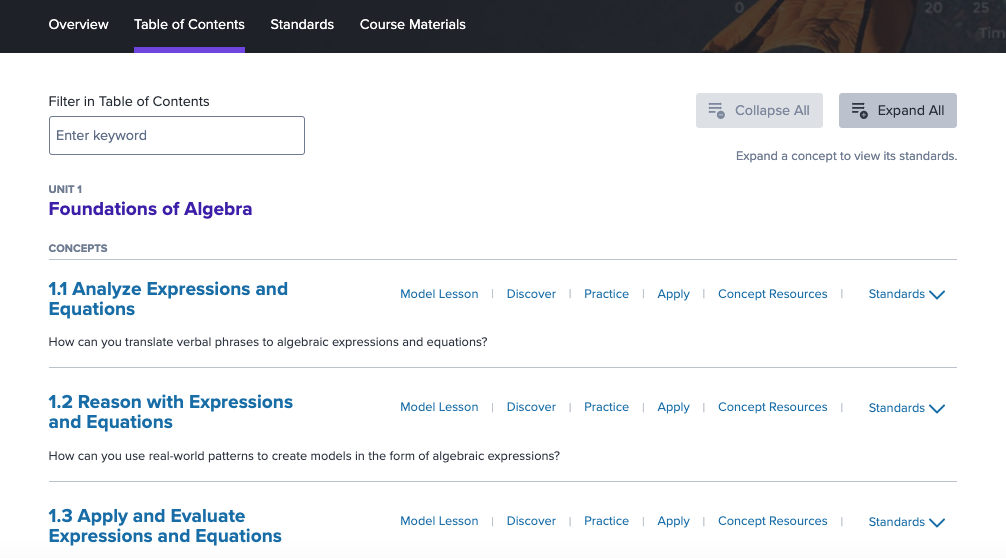 ---
Step 5: View the Unit Opener Video
The Unit Opener video, found by selecting View Unit from the Math Techbook Overview view, introduces students to what will be covered in the entire unit.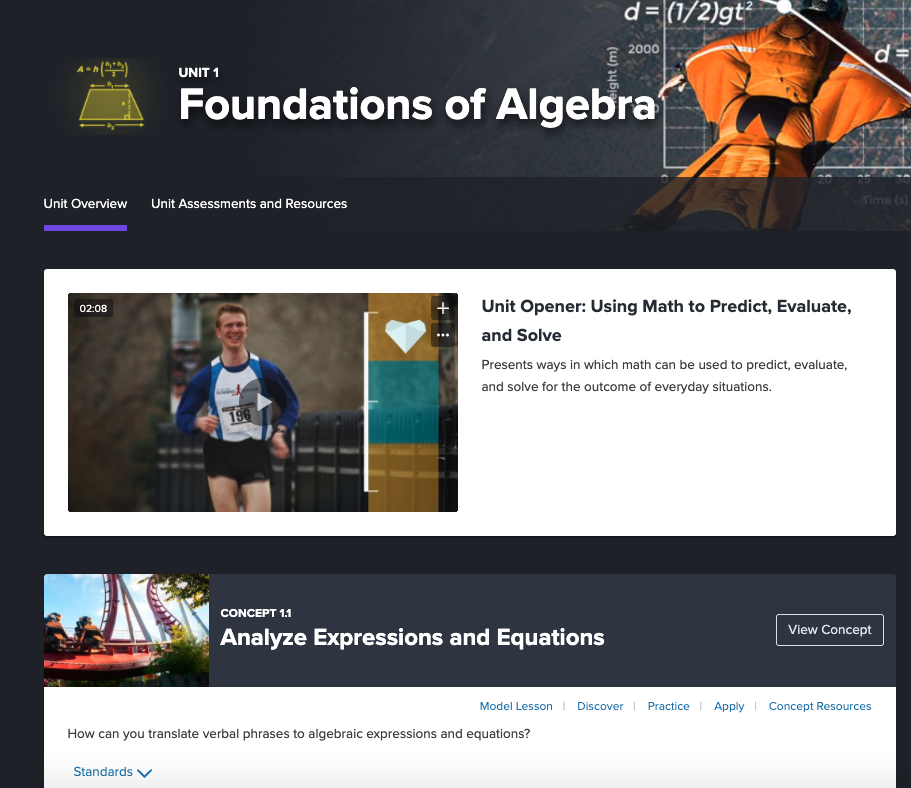 ---
Step 6: Explore Concepts
Select a concept to explore starting with the Model Lesson. Use the left tabs to navigate and review the components of the Model Lesson. The Model Lesson provides teacher preparation information, suggested instructional pathways and strategies, and models use of Discovery Education digital resources.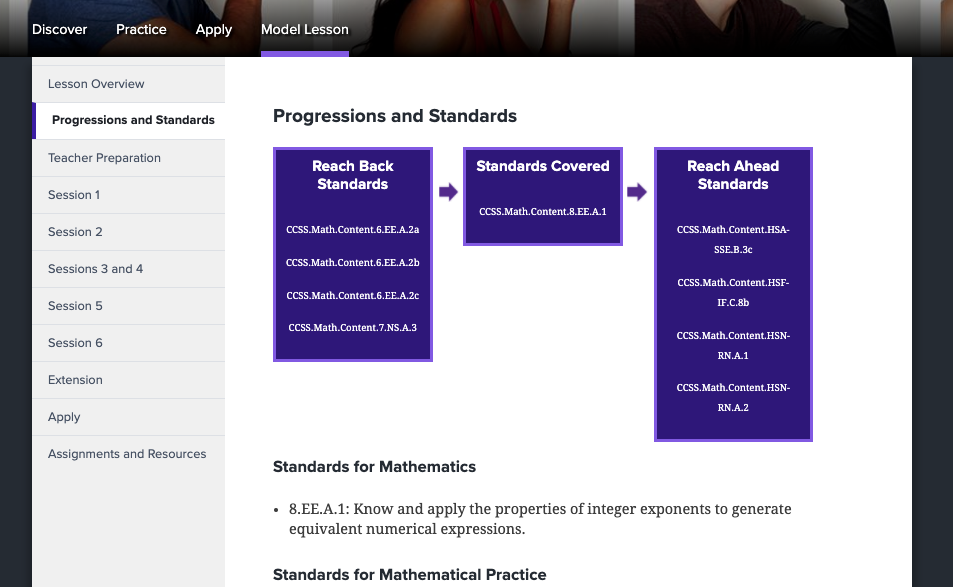 ---
Step 7: Select Discover and Explore Investigations
In the Discover tab, students are presented with problems that build on previous understanding and are guided to develop algorithms and solutions. They progress from relatively straightforward application of the material to "messy" problems that add variables, require additional thought, expect students to conduct research and make assumptions. Students are required to create a mathematical model and provide a well-articulated solution with justification, and are supported in developing mathematical models, constructing mathematical arguments, and recognizing multiple solutions to a problem. Students are provided with interactives and digital math tools to develop problem solutions and are directed to enter solutions into a Technology-Enhanced Item (TEI) structured response for teacher review.
---
Step 8: Select Practice and Explore Coach and Play
In Practice, students build procedural skill and fluency with Coach and Play. With Coach, students are moved through a guided pathway and practice solving exercises using the successful algorithms and methods they developed in Discover. Students are able to see a record of attempts on their student dashboard. With Play, students are provided practice exercises in a gamification approach to build fluency. Students are able to see their results on their dashboard.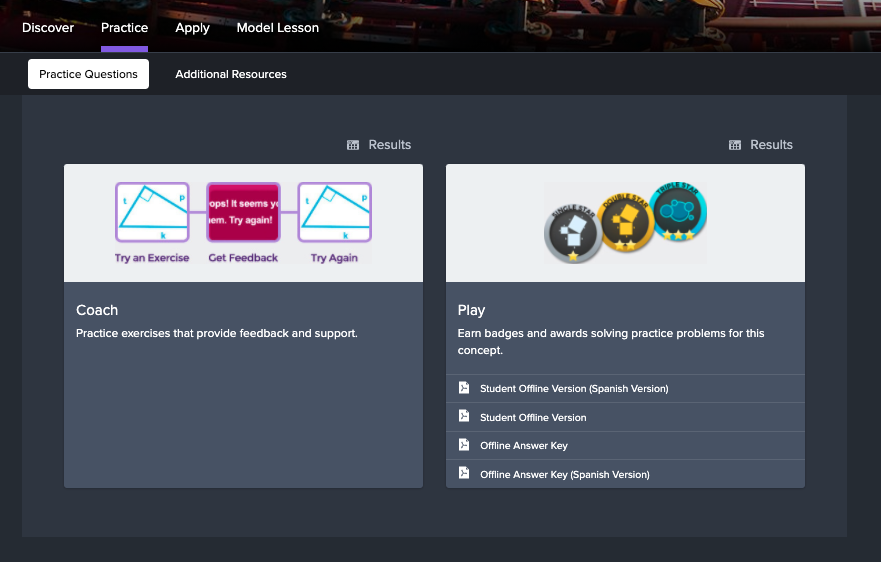 ---
Step 9: Select Apply and Explore Apply Problems
In Apply, students are modeling with mathematics and then applying and re-exploring these prior understandings. They are presented with more real world problems at successively difficult levels and asked to apply their understanding and procedural skills in a more challenging real world context. Students are able to view the results of their Apply problems on their dashboard In Apply, teachers use the problems as opportunities for classroom dialogue and discussion about effective mathematical modeling and problem solving. Teachers can review Apply results in their dashboard.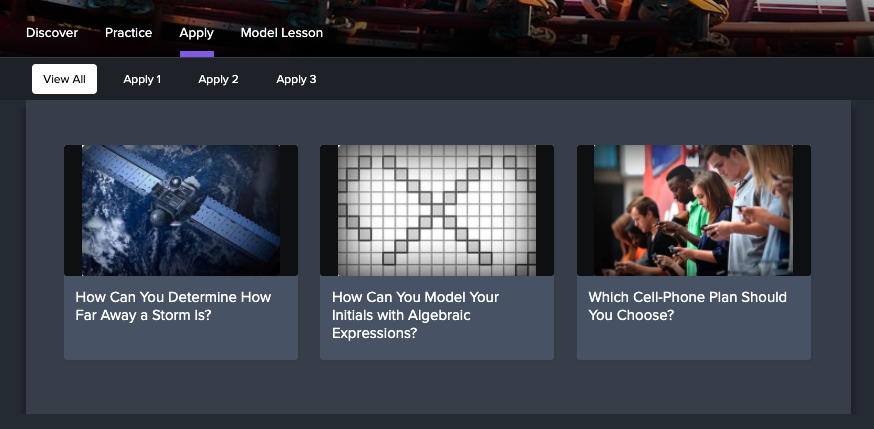 ---
Step 10: Explore Dashboard, Glossary, and Math Tools
Within Dashboard, there are two Dashboards - Concept Dashboard (formative assessments) and Course Assessments (summative assessments) where teachers and students view and analyze the data and evidence collected as they interact with Math Techbook. Based on this data and evidence, teachers have the ability to differentiate instruction to create a more personalized learning environment as well as determine if their students have mastered the content.
Math Tools include a graphing calculator, geometry software, and whiteboard. They allow students to explore mathematics interactively, and they allow students to communicate mathematically, creating graphs, constructions, and other mathematical artifacts and sharing screenshots of them with teachers and classmates.
Explore the My Dashboard, Glossary and Math Tools featuresSSave Save Save Save Save