Teachers can assign a Video Quiz or Standard Quiz to students.
Assign a Quiz
When you assign a quiz, it appears on the student's homepage, like other Discovery Education resources.
To assign content to students, follow these steps:
Step 1 - Title and Instructions:

Give the assignment a title and write instructions and select

Next.
Step 2 -

Assign to:

Select entire classes or a group of students within your classes and select

Next.
Step 3 -

Schedule:

Select the start and due dates of the assignment and select

Assign.
Step 4 - Confirmation:

View confirmation of the assignment.

To view the newly assigned Studio project in your Classroom Manager, select View Assignment Manager. To close and continue, select Okay.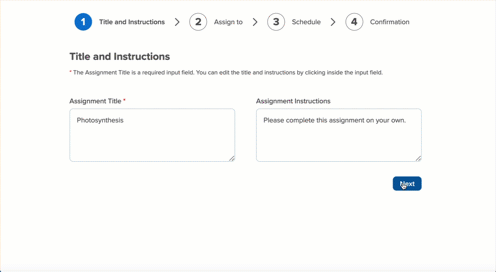 Student Experience
Students launch the assigned quiz from their DE homepage and complete it at their own pace. For a video quiz, they play the video and answer questions as they appear. For a standard quiz, they advance through the questions at their pace.
When finished, they submit the quiz. They can view their answers and results (for auto-graded items) automatically at the end of the quiz. Learn more about managing quiz results.
Note: Quiz is available to our full Discovery Education partners only.